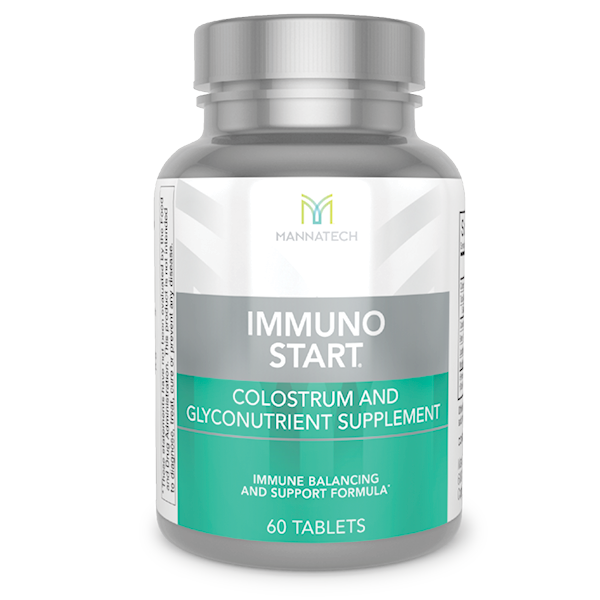 ImmunoSTART® (60 tabletas masticables)
Packed full of nutrients, ImmunoSTART tablets help stimulate and support the body's natural immune response to help you live to the fullest.*
Mission 5 Million®
9
servings
of PhytoBlend™ powder are provided to a child in need with the purchase of this product.
Learn More
Product Information
Overview
LEND A HAND TO YOUR IMMUNITY
Problems with stress, bad diet and poor sleep habits aren't helping your immune system. Packed full of nutrients, ImmunoSTART tablets help stimulate and support the body's natural immune response to help you live to the fullest.*
These tablets:
Help build, support and nurture immune system health.*
Are engineered with a targeted array of nutrients, including bovine colostrum and lactoferrin, that work to stimulate and support the body's natural immune response.*
Increase plasma levels of neutrophil precursors. (Neutrophils are the most abundant immune cells and form an integral part of the immune system).*
FAQs
Can I take ImmunoSTART tablets as part of my daily regimen?
Yes, you can take ImmunoSTART tablets on a daily basis or as needed to energize your immune system. * Our ImmunoSTART tablets are a perfect complement to our core products.
My ImmunoSTART tablets sometimes change color or spot. Is the product still good?
The ImmunoSTART formula includes all-natural ingredients. Some of these ingredients are apt to be affected by humidity, which can cause ImmunoSTART tablets to spot or change color. This is a natural phenomenon and does not affect the ef fi cacy or safety of the product. As with any product, always check the expiration date that is provided on every Mannatech product to be sure the product is fresh and will provide optimal amount of nutrients.
What is colostrum?
The colostrum in ImmunoSTART is bovine pre-milk taken in the fi rst six hours after a calf is born. Our ImmunoSTART tablets contain certi fi ed Prime Colostrum. Colostrum is bene fi cial because it includes proteins, immunoglobulins, vitamins and minerals that help support the immune system.*
What is Lactoferrin?
Lactoferrin is a globular multifunctional protein with immune-stimulating properties, and is part of the innate defense system, mainly in the mucus membranes.* Lactoferrin is found in colostrum, milk and many mucosal secretions, such as tears and saliva. Human colostrum has the highest concentration of Lactoferrin, followed by human milk, then cow's milk.
If I'm lactose intolerant can I use this product?
ImmunoSTART does contain a small amount of lactose. Individuals with allergies or sensitivities to any ingredients in our products should always consult their personal physician before use.
What is modified citrus pectin?
Mannatech's ImmunoSTART tablets contain modi fi ed citrus pectin (MCP), also known as fractionated pectin. It is a complex polysaccharide obtained from the peel and pulp of citrus fruits.