Free Shipping on every subscription over $224.99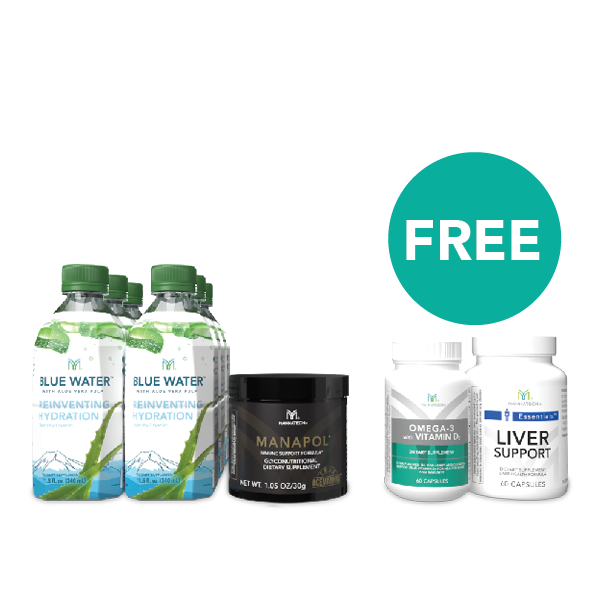 HIT RESET + Receive FREE Omega-3 and Liver Support
What your body needs, inside and out
Mission 5 Million®
62
servings
of PhytoBlend™ powder are provided to a child in need with the purchase of this product.
Learn More
Product Information
Overview
Hit the reset button, and give yourself the opportunity to regain control of your health and habits with the products below!
†LIMIT 4 PER EACH ORDER.
Manapol®, the only 100% pure Aloe vera inner leaf gel powder that qualifies as Acemannan, can help fuel your cell-to-cell communication for amazing, total-body well-being benefits.*
Blue Water™, sourced from a volcanic aquifer located in the tropical "blue zone" region of Costa Rica and infused with Aloe vera pulp, helps to deliver delicious, deep hydration.*
FREE! Omega-3 with Vitamin D3 packs cardiovascular, bone, brain and immune health support into one capsule!*
FREE! The herb and nutrient blend of Liver Support works to help support the 500 essential functions of the liver — from detoxifying to metabolism.* This amazing organ is key to your best health, so help take care of it.
This bundle includes:
1 Manapol
1 Blue Water
1 Omega-3 with Vitamin D3
1 Liver Support
Reviews
Reviews collected from North America
†LIMIT 4 PER EACH ORDER. NOT FOR RESALE IN CANADA. ORDERS CANNOT BE REDEEMED USING LOYALTY POINTS. THERE WILL BE NO FIRST ORDER BONUS FOR FIRST ORDERS OF THIS PROMOTIONAL ITEM DURING THIS PROMOTIONAL PERIOD AND/OR WHILE SUPPLIES LAST. ALL SALES FINAL.