Free Shipping on every Automatic Order over $100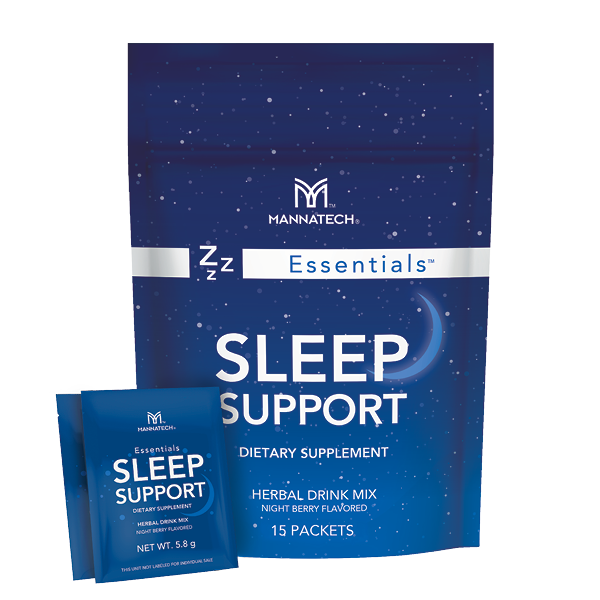 Get the sleep you've dreamed about
Product Information
Overview
Mannatech's Sleep Support is a fragrant, herbal, soothing, and non-habit forming drink mix, containing naturally sourced ingredients. It is scientifically formulated with two special blends: the Fall Asleep Blend and the Deep Sleep Blend. The Fall Asleep Blend can help your body and mind to relax so that you can fall asleep easier. The Deep Sleep Blend is designed to help you to maintain a deep sleep, so that you can feel refreshed and energized when you wake.*
When taken as directed, Sleep Support herbal drink mix:
May calm and soothe the nervous system.*
Provides a soothing relaxation from normal day-to-day activities.*
May help ease restlessness.*
May help you to fall asleep naturally.*
May help support the regenerative sleep phases.*
Helps to maintain deep sleep.*
Supports a good night's sleep.
May support digestive health.*
Supports cardiovascular health.*
Videos
Product Focus: Sleep Support
Resources
Product Information Sheet
Enjoy the Convenience of Automatic Order
Turn on Automatic Order during Checkout and we'll deliver your products to your doorstep automatically every month! Automatic Order is not only convenient but it means the benefits of the products you are taking will keep contributing toward your ongoing health and wellness!
PLUS
Free Shipping
on every Automatic Order
$100 or more!
PLUS
Loyalty Points
you can use towards
FREE product!