Free Shipping on every subscription over $224.99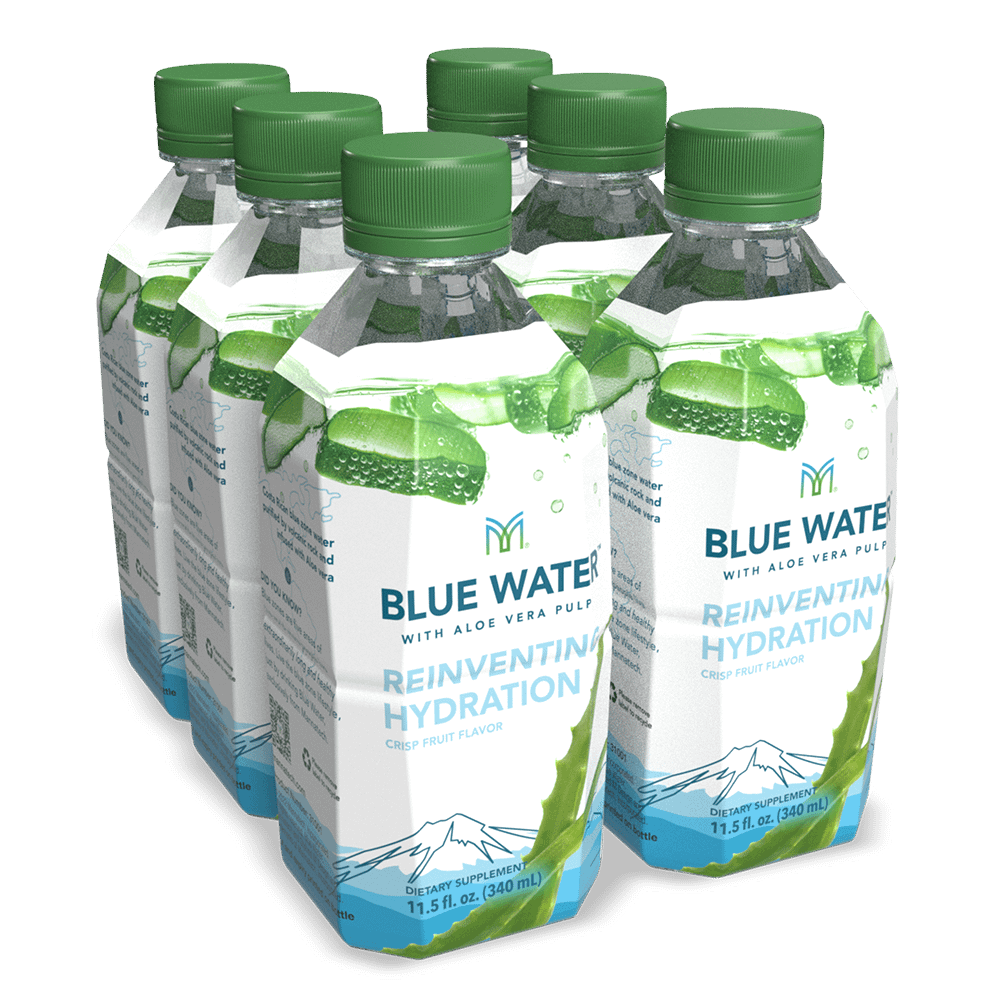 Our remarkable water source coupled with the many attributes of the aloe vera plant, was the inspiration behind our product name- Blue Water.
Mission 5 Million®
6
servings
of PhytoBlend™ powder are provided to a child in need with the purchase of this product.
Learn More
Product Information
Overview
MANNATECH BLUE WATER. Reinventing hydration with Aloe and immunity support.*
Reinventing Hydration starts with water sourced from a volcanic aquifer in a rare blue zone.
†LIMIT 4 PER EACH ORDER.
Mannatech's NEW Blue Water is sustainably sourced from certified carbon neutral Costa Rican deep-water volcanic aquifer located in one of the world's rare blue zones.
Blue zones are global regions known for having a population with an exceptionally long life expectancy and fewer health challenges. The aquifer's layers of porous volcanic rock provides a natural filtering process that provides exceptionally clean water for healthier hydration.
Blue Water with Pure Aloe vera. Taste the difference, feel the difference.
We add 100% pure Aloe vera pulp. The Aloe vera is sourced from this same premium Costa Rican blue zone location.
The leaves are harvested and fileted by hand to preserve the polysaccharides and prebiotics to further support the body's immune health and optimal hydration.*
Infused with a crisp fruit flavor, fresh, juicy Aloe vera pulp and electrolytes, Blue Water is unlike any bottled water you've ever experienced.
Hydrate like never before.
Blue Water Benefits
Supports deep hydration at the cellular level*
Provides deep hydration to support more radiant, luminous skin*
Supports healthy organ function*
Supports healthy immune function*
Supports healthy digestion and a healthy microbiome*
Supports nutrient absorption, like vitamins C and E*
Ingredients
Purified water, Aloe pulp (inner leaf gel), xylitol, citric acid, natural flavor, ascorbic acid (antioxidant), sodium citrate, dextrose, xanthan gum, gellan gum, carboxymethylcellulose, calcium lactate, aloe vera extract (whole leaf gel), stevia, potassium sorbate (preserves freshness).
Resources
Product Information Sheet
Reviews
Reviews collected from North America
†LIMIT 4 PER EACH ORDER. NOT FOR RESALE IN CANADA. ORDERS CANNOT BE REDEEMED USING LOYALTY POINTS. THERE WILL BE NO FIRST ORDER BONUS FOR FIRST ORDERS OF THIS PROMOTIONAL ITEM DURING THIS PROMOTIONAL PERIOD AND/OR WHILE SUPPLIES LAST. ALL SALES FINAL.