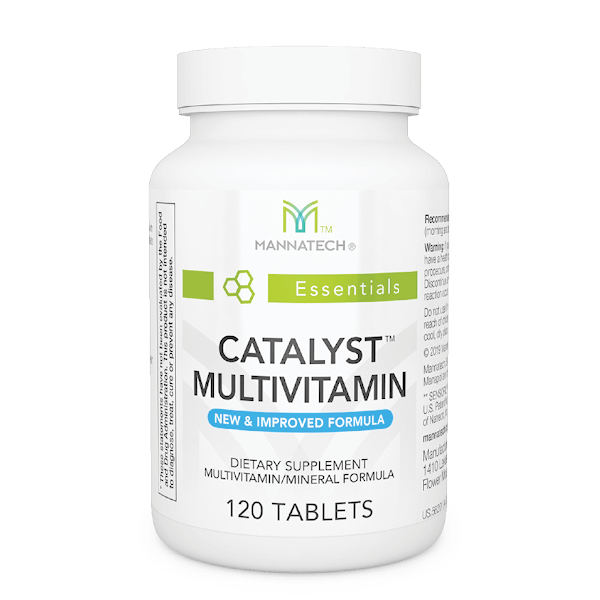 Maximize your multivitamin
Mission 5 Million®
12
servings
of PhytoBlend™ powder are provided to a child in need with the purchase of this product.
Learn More
Product Information
Overview
Catalyst Multivitamin tablets combine natural, plant-based nutrients with the best of scientifically supported ingredients. Catalyst Multivitamin provides at least 100% DV of 19 essential nutrients your body needs, and also now includes the adaptogen, ashwagandha, to support you physically and emotionally.*
Catalyst Multivitamin comes with a long list of benefits:
Provides antioxidant (vitamins A, C and E) support*
Supports endocrine health*
Supports mood, the mind and the body's feeling of normalcy*
Supports a healthy immune system*
Supports the liver, kidneys and nervous system*
Supports healthy skin, hair, eyes and joints*
Supports healthy bones*
Supports cardiovascular health*
May increase energy and vitality*
Provides fat loss support* ‡
Provides support for an array of your body's most important functions*
Ingredients
Vitamin A (as beta carotene and mixed carotenes), Vitamin C (as ascorbic acid and acerola fruit extract) Vitamin D (as ergocalciferol), Vitamin E (as d-alpha-tocopheryl succinate with mixed tocopherols and tocotrienols), Thiamin (as thiamine mononitrate and from baker's yeast), Riboflavin (as riboflavin and from baker's yeast), Niacin (as niacinamide and from baker's yeast), Vitamin B6 (as pyridoxal-5-phosphate and from baker's yeast) Folate (as calcium L-5 methyltetrahydrofolate and from baker's yeast) (Folic Acid), Vitamin B12 (as cyanocobalamin and baker's yeast) Biotin (as biotin from baker's yeast), Pantothenic Acid (as calcium D-pantothenate and from baker's yeast), Choline (as choline bitartrate), Calcium (as calcium citrate-malate), Iodine (from potassium iodide), Magnesium (as magnesium oxide, magnesium bisglycinate), Zinc (as zinc bisglycinate chelate), Selenium (as L-selenomethionine), Copper (as copper glycinate), Manganese (as manganese glycinate), Chromium (as chromium nicotinate glycinate chelate) Molybdenum (as molybdenum glycinate chelate) Sodium, Boron (as boron glycine) Vanadium (as vanadium amino acid chelate), Ashwagandha** root and leaf extract (Withania somnifera), Inositol, Alpha-Lipoic Acid, Spirulina, Coenzyme Q10, Microcrystalline cellulose, dicalcium phosphate, stearic acid, croscarmellose sodium, rice hull concentrate, hydroxypropyl methylcellulose, Acacia gum, Arabinogalactan (from Larix spp. wood) , gum tragacanth, Aloe vera extract (inner leaf gel powder), strawberry, blueberry, raspberry, tart cherry, elderberry, cranberry, broccoli, broccoli sprouts, tomato, carrot, spinach, kale, peppermint flavor, glycerin.
Videos
What Are Mineral Chelates?
Resources
Product Information Sheet
Reviews
Reviews collected from North America
‡When taken in conjunction with a reduced calorie diet and exercise.