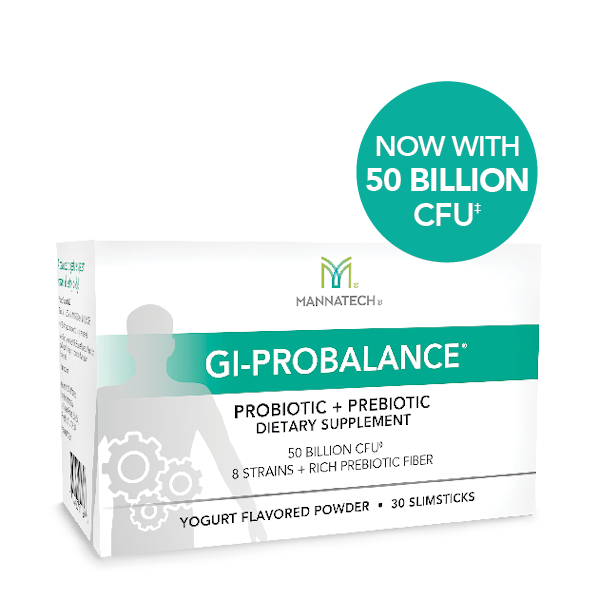 Construa o equilíbrio para suas bactérias gastrointestinais
Mission 5 Million®
7
servings
of PhytoBlend™ powder are provided to a child in need with the purchase of this product.
Learn More
Product Information
Overview
Gi-ProBalance agora é especialmente formulado com MannaBiotic™ A mistura consiste em 8 cadeias poderosas, incluindo cadeias lactobacilos e bifidobactérias, totalizando 50 bilhões de unidades formadoras de colônias (CFU). ‡ Estas cadeias de bactérias de caridade foram especialmente selecionadas devido à sua durabilidade e robustez, permitindo que eles alcancem os intestinos delgado e grosso, onde fazem a maior parte do seu trabalho. Os pacotes de slimsticks individuais do Gi-ProBalance também incluem uma mistura especial de fibras prebióticas que ajuda a alimentar e ativar probióticos, para que possam funcionar de forma eficaz.
* Os
pacotes individuais Slimsticks de Gi-ProBalance agora são formulados para:
Suporte a um microbioma saudável do trato digestivo.

*

Apoiar o equilíbrio natural de bactérias benéficas para manter a digestão saudável*
Para proteger contra distúrbios digestivos
típicos desconforto intestinal ocasional.

*

Promova a função imune natural.

*

Contém 8.500 milhões de UFC (Unidades Formadoras de Colónias), garantidas, no momento da expiração.
Promover uma correlação saudável entre o cérebro e o trato digestivo.

*

Suplemento níveis de probióticos naturais que podem flutuar devido ao envelhecimento normal, dieta ou outros problemas digestivos normais.

*

Contém cadeias probióticas resistentes a ácidos.
Reviews
Reviews collected from North America
‡Contém 50 bilhões de agências (no momento da fabricação)
NÃO PARA REVENDA