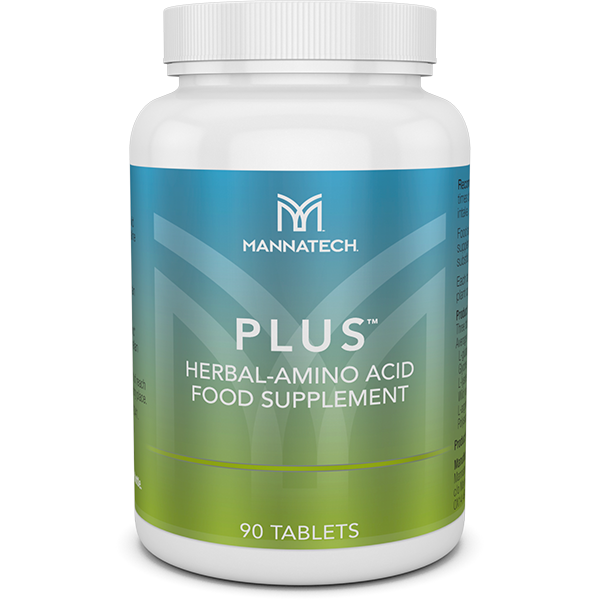 PLUS™ Tabletas (90 tabletas)
Para apoiar o sistema endócrino para um equilíbrio hormonal no corpo
Mission 5 Million®
9
servings
of PhytoBlend™ powder are provided to a child in need with the purchase of this product.
Learn More
Product Information
Overview
Uma excelente opção para suporte endócrino.
Na Mannatech sabemos que o sistema endócrino é extremamente importante. É por isso que nossos comprimidos PLUS, uma mistura única de nutrientes padronizados foram formulados para ajudar a apoiar o seu sistema endócrino.
*
Usando mensageiros químicos específicos chamados hormônios, o sistema endócrino ajuda a regular elementos críticos, como metabolismo, função de tecido e até mesmo humor. Portanto, não é de admirar que um sistema endócrino saudável seja essencial para o bem-estar geral! Os comprimidos Mannatech PLUS™ fornecem nutrientes que ajudam a apoiar a função natural do sistema endócrino.
Ingredientes:cloridrato de
L-lisina, glicina, pó de raiz de inhame selvagem,
L-glutâmico, celulose microcristalina, L-arginina
(cloridrato de L-arginina, goma-laca), ácido esteárico, revestimento
(hidroxipropilmetilcelulose, polidextrose, talco,
dióxido de titânio, maltodextrina,
triglicerídeos de cadeia média), beta-sitosterol, dióxido de silício,
carboximetilcelulose de sódio reticulado, estearato de magnésio,
mistura de polissacarídeos vegetais (aloe vera pó de gel de
folha interna, goma de acácia, goma de ghatti, goma de tragacanto).
Uso recomendado:
Tome um comprimido três vezes ao dia.
Cada comprimido contém uma mistura proprietária de plantas
hidratos de carbono e ervas.
FAQs
¡Añada un poco de apoyo y siéntase como nunca!
Un sistema endocrino saludable proporciona una gama completa de hormonas que pueden regular sus células y órganos. Hecho con una mezcla especial de nutrientes y aminoácidos, las tabletas PLUS™ incluyen:
Materias primas para el apoyo endocrino. * Los nutrientes que ayudan a apoyar la función natural del sistema endocrino *
Reviews
Reviews collected from North America
* Esta afirmação não foi avaliada pela Food and Medicine Administration. Este produto não se destina a diagnosticar, tratar, curar ou prevenir qualquer doença.
NÃO PARA REVENDA