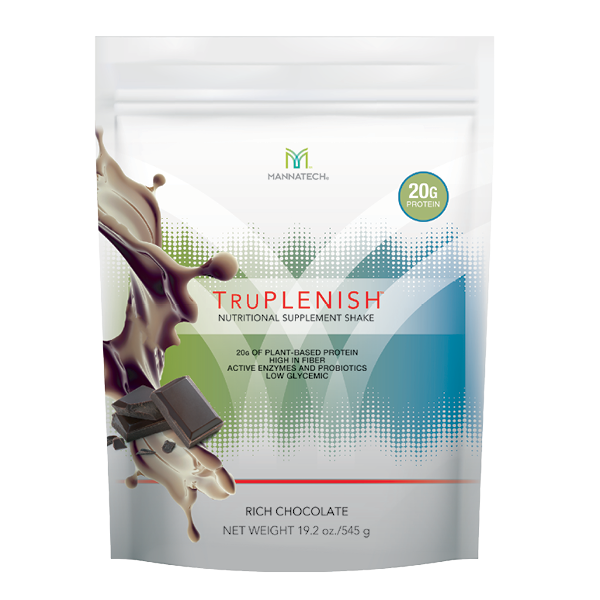 TruPLENISH™ Batido Nutricional (Delicioso Chocolate)
Seu índice alto da fibra faz você se sentir completamente por mais tempo
Mission 5 Million®
13
servings
of PhytoBlend™ powder are provided to a child in need with the purchase of this product.
Learn More
Product Information
Overview
Truplenish Nutricional Shake é um dos principais componentes do sistema de perda de gordura da TruHealth. É um substituto completo de alimentos vegetais cheio de vitaminas, minerais, probióticos, gliconutrientes e mais de 20 gramas de proteína. Seu alto teor de fibra faz você se sentir saciado por mais tempo e você pode escolher entre dois sabores deliciosos: chocolate e baunilha. Substituir uma refeição ou lanche todos os dias por um TruPlenish Nutricional Supplement Shake enquanto segue a dieta dietética sugerida pela TruHealth permite reduzir facilmente a ingestão de calorias sem sacrificar as necessidades nutricionais. Este shake ajuda você a estabelecer as bases para seus fins pessoais de perda de gordura. Quando você alcançou seus objetivos, continuar a incorporar TrupEnish Shakes em sua dieta diária irá ajudá-lo a manter seu peso e sua silhueta nova e melhorada.
TrupEnish Shake: †
Ajuda você a transformar seu corpo e melhorar a composição corporal mantendo o músculo magro*
Ajuda a reduzir a sensação de fome e aumenta a sensação de saciedade*
Incentiva a gestão de peso saudável* Promove a perda de peso saudável
, para um peso saudável Perda Obtendo um corpo mais
saudável e esbelto* Ajuda você a ter uma digestão saudável*
É uma maneira nova e saudável de criar um hábit*
Ajuda você a se sentir e parecer melhor*
Adequado para veganos e vegetarianos
Não inclui ingredientes produzidos pela biotecnologia
Glúten
Livre de soja
Sem produtos lácteos ou ingredientes lácteos
Não MSG Sem
corantes artificiais Sem sabores artificiais
Sem
edulcorantes

artificiais
†Quando tomado em conjunto com uma dieta calórica reduzida e exercício físico regular.
±Glyconutrients são sacarídeos benéficos encontrados na natureza.
NÃO PARA LA REVENTA