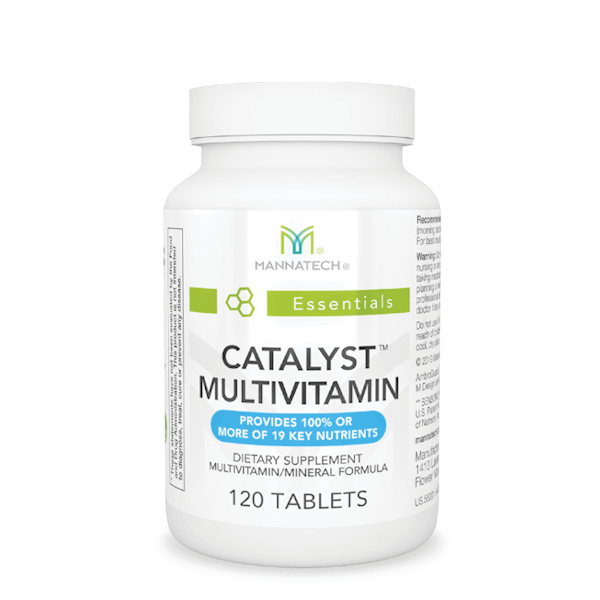 Maximize your multivitamin
Mission 5 Million®
11
servings
of PhytoBlend™ powder are provided to a child in need with the purchase of this product.
Learn More
Product Information
Overview
Don't settle for any multivitamin. You want Catalyst™ Multivitamin with Glyconutrients.† Catalyst Multivitamin tablets combine natural, plant-based nutrients with the best of scientifically supported ingredients. We've reformulated it to be better than ever, with 30 vitamins, minerals and nutrients with maximum nutritional benefits and easy physical absorption. Infused with glycans, it can do more for your health and preventative care than the multivitamin you may be taking now. Catalyst Multivitamin provides at least 100% DV of 19 essential nutrients your body needs, and also now includes the adaptogen, ashwagandha, to support you physically and emotionally.
Catalyst Multivitamin comes with a long list of benefits:
Provides antioxidant (vitamins A, C and E) support
Supports endocrine health
Supports mood, the mind and the body's feeling of normalcy
Supports a healthy immune system
Supports the liver, kidneys and nervous system
Supports healthy skin, hair, eyes and joints
Supports healthy bones
Supports cardiovascular health
Maintains healthy blood pressure and blood sugar levels
May increase energy and vitality
Provides fat loss support‡
Provides support for an array of your body's most important functions
Fun Fact: Catalyst Multivitamin provides 100% of the Daily Value of vitamin D and iodine, and provides more than 100% of the Daily Value of vitamin A, vitamin C, vitamin E, thiamin, riboflavin, niacin, vitamin B6, Folate, vitamin B12, biotin, pantothenic acid, magnesium, zinc, selenium, copper, molybdenum and chromium.
Resources
Product Information Sheet
Reviews
Reviews collected from North America
†Glyconutrients are beneficial saccharides found in nature.
‡When taken in conjunction with a reduced calorie diet and exercise.
For Personal Consumption