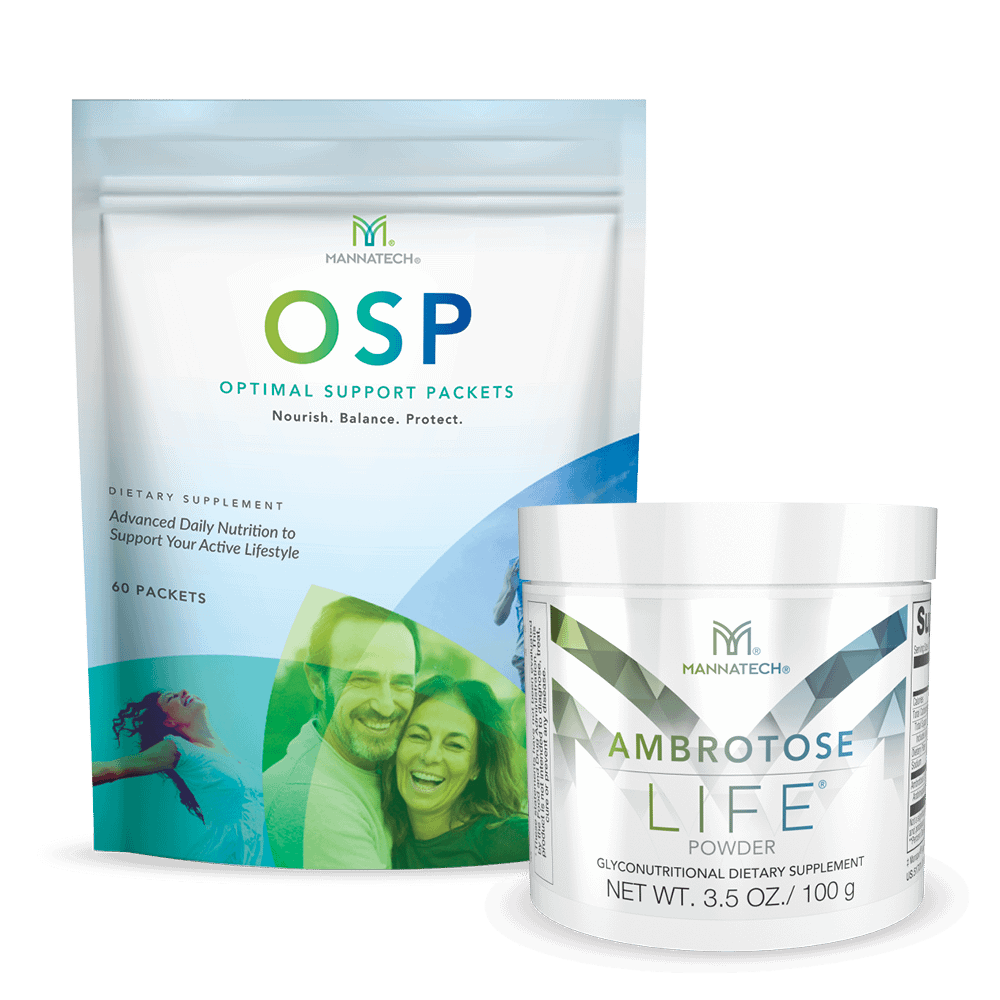 Your Proactive Approach to Healthy Aging
Mannatech has developed products that truly support a proactive lifestyle. Our legendary Core Four bundle is a favorite among our customers due to the abundance of support for healthy aging, while giving you a sense of confidence in what you do for your health.*
For true healthy aging we need to start at the foundational level: the human cell. Without communication, systems all throughout our body can stop working, processes are interrupted, and our bodies break down at a quicker rate. To ensure peak performance, our cells and organs must COMMUNICATE properly.*
Next, we need to NOURISH our cells with essential vitamins and minerals needed for each of the organs and systems throughout our body to complete vital daily functions. If we don't feed our body, an optimal level of nutrients, it cannot function optimally.*
Once we have the communication and nourishment in place, we need to help PROTECT our bodies. Every day, we encounter pollutants, toxins and germs that threaten our cells and immunity. Antioxidants help guard the body from these threats.*
Lastly, we need to REGULATE our very important endocrine system.  A healthy endocrine system provides a full array of hormones that can regulate your cells and organs. *
Help Nourish, Protect, Regulate, Communicate
At Mannatech, we understand the challenges you face in staying healthy. It is our mission to positively impact your future by helping your body receive the essential vitamins and minerals it needs to operate at its best.*
The Core Four bundle with Ambrotose LIFE® + Optimal Support Packets (OSP) helps NOURISH, PROTECT, REGULATE and COMMUNICATE by providing optimal support for complete wellness in the convenience of just 2 packets and 2 scoops per day.* Our products not only work together, but they also build on the supporting benefits that each offers in providing optimal support for healthy aging.*
NOURISH
with Catalyst™ Multivitamin
Formulated strategically to nourish with 30 vitamins, minerals, and essential nutrients, 19 of which provide 100% or more of the daily vitamins your body needs. *
HELP PROTECT
with Ambrotose AO®
Loaded with antioxidants like naturally sourced vitamins C and E to provide superior protection for cells, to boost immune support, and to help the body guard against oxidative stress so you can keep living well.*
Help regulate endocrine and foundational adrenal function to help your body's natural recovery processes from things like adrenal fatigue.*
COMMUNICATE
with Ambrotose LIFE®
Ambrotose LIFE powder offers a powerful complex of prebiotics, soluble fibers and naturally sourced Glycans for proper nutrition and cell-to-cell communication, as well as immune and digestive support.*
Why choose OSP over the individual bottled products?
Portability – Packets allow for a faster, easier way to take your supplements at home or on the go.
Convenience – Packets allow for less possibility of dropping/fumbling with many capsules and losing track of them.
Easy to Take – Some people have challenges opening containers and this provides a very easy way to grasp and open with minimal challenges. Packets also make it so you don't have to review labels to remember how many to take daily.
More Reasons to Love Our Products
Sources:
1 American Medical Association
2 OregonState.edu
3 US Department of Agriculture
4 Council for Responsible Nutrition