TRANSFORMATIONAL PRODUCTS
An Innovative Difference
THE RIGHT KIND OF NUTRITION
Your body has trillions of cells that communicate with each other. They know when they need nourishment, protection, repair and even destruction. When cells don't receive proper nutrition, whether from age, diet or other environmental factors, they won't communicate as well. But with the right kind of nutrition, your body can do amazing things.*
Mannatech is the pioneer of groundbreaking technology that's revolutionizing nutrition, immune health, weight loss, skincare and more. Called Glyconutrition, it provides targeted nourishment for your cells through specialized ingredients derived from plants. Our supplements come from real food to help give your body the right kind of nutrition for a healthy life.*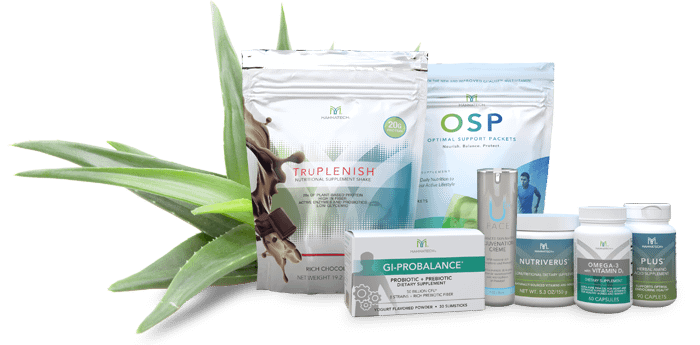 REAL NUTRITION FOR OUR BODIES
Ask anyone what fuels the human body, and they will tell you, "food." Unfortunately, the nutritional value of the food we eat is in decline and nutritional supplementation is a must. Mannatech provides the highest quality nutritional supplements + glyconutrients. Glyconutrients are natural saccharides that help your body's cells communicate with one another so that your body can properly maintain its many systems and perform optimally. When is the last time you felt really good?
WHAT MAKES US BETTER
We have over 100 patents that have been issued, granted and validated in major global markets. Most companies in the wellness industry have little to none. This is what sets us apart and showcases our passion for transforming lives. We also have, to date, 17 human clinical trials that have been published, 13 of which were double-blind, placebo-controlled studies—the gold standard for product validation. Instead of just talking about "quality" we go out and achieve it with every product through science, technology and validation.
To further prove we are ardent about what we do:
Many products manufactured at facilities have been certified by NSF.
Our manufacturers follow current Good Manufacturing Practices (cGMPs) designed to ensure that proper controls are maintained in the development, production, testing and post-market surveillance of our products.
Over $50 million invested in research and product development.
Zero Risk
We're so confident that our products will transform your life, that we offer an unsurpassable 180-day satisfaction guarantee. That's six whole months to test out our products that are revolutionizing nutrition, immune health, fat loss, skincare and more. Learn more.

Change the World
Every time you purchase a product from Mannatech, you generate a monetary donation to the M5M℠ Foundation, which is used to purchase nutrient-rich PhytoBlend™ powder that's distributed worldwide to children in need. Help transform the lives of childen in poverty by purchasing Mannatech products today.