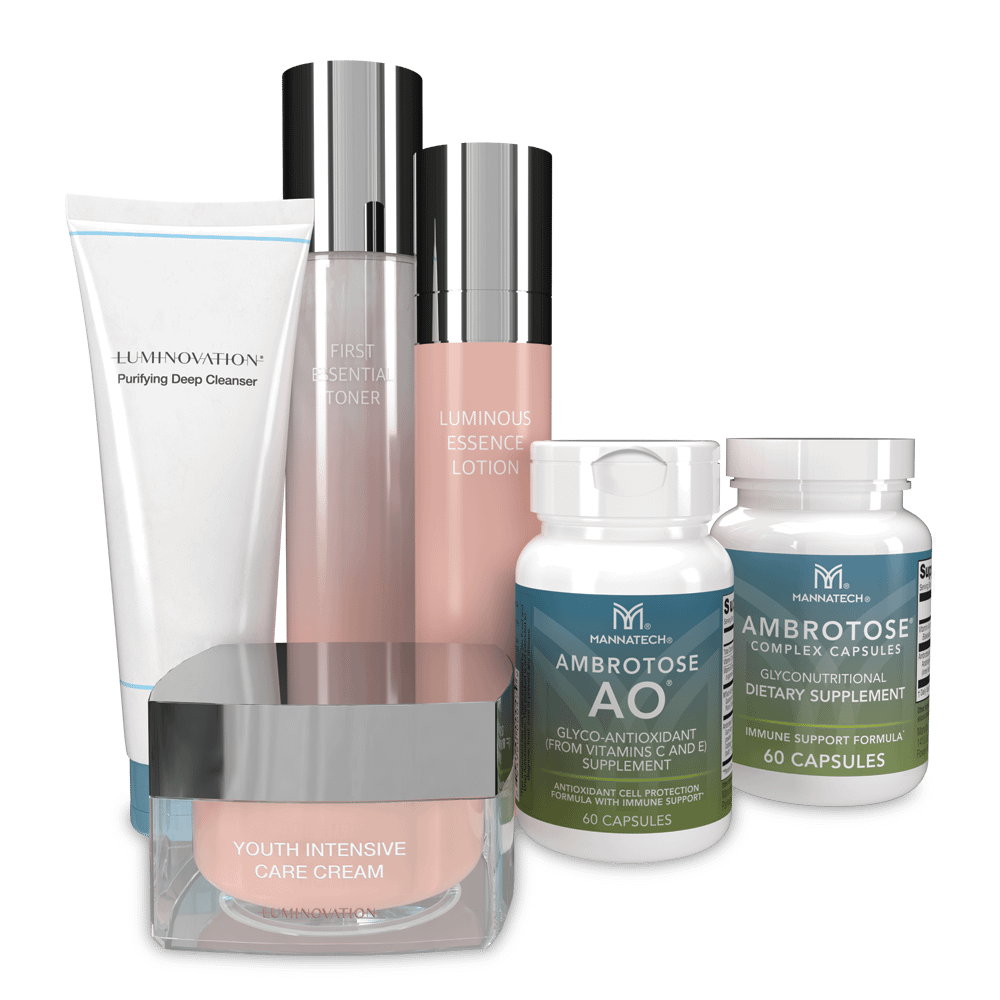 Your Ultimate Beauty Transformation Bundle!
Mission 5 Million®
62
servings
of PhytoBlend™ powder are provided to a child in need with the purchase of this product.
Learn More
Product Information
Overview
The Luminovation K-Beauty Skincare System includes all 4 Daily Luminovation items shipped together for your convenience. All first-time purchases of this bundle will be shipped with a free Special Luminovation Display Box and Luminovation Sprayer that allows you to spritz on your toner. All subsequent purchases of this bundle will still receive the 4 Daily Luminovation Products, however will be shipped without the display box and sprayer.
Unlock the secret to radiant, youthful beauty with our carefully curated Glow Up Collection. This comprehensive beauty regimen is designed to work from within, harnessing the power of cutting-edge skincare and wellness technology to help you achieve a more youthful, glowing complexion and overall well-being.*
Bundle Contents:
Luminovation System:
Cleanser: Gently cleanse and purify your skin with the power of PhytoGlyco™ Complex, preparing it for the ultimate transformation.
Toner: Rebalance and hydrate your skin with a blend of 43 Natural Moisturizing Factor (NMF) types. NMF ensures your skin stays thoroughly hydrated and shielded against moisture loss. #SpritzYourself!
Luminous Essence Lotion (6 Jewel Complex): Infuse your skin with the luxurious blend of Diamond, Pearl, Amethyst, Ruby, White Sapphire, and Topaz. These precious gems promote healthier, brighter skin while adding a touch of luxury to your skincare routine.
Youth Intensive Cream: Combat the appearance of fine lines and wrinkles with the power of 8 peptides. This advanced formula promotes long-lasting hydration and firmness, revealing a smoother, more youthful complexion. Experience the magic of glycan technology and K-Beauty innovation as this system brings you closer to your dream of flawless, glowing skin.
Ambrotose AO® caps:
Antioxidant Powerhouse: Fight off free radicals and oxidative stress at the cellular level, protecting your skin and body from environmental damage.*
Beauty from Within: Experience beauty that starts from the inside out as Ambrotose AO nourishes your cells for a more vibrant, youthful appearance.*
Ambrotose® Complex caps:
Cellular Health: Support your body's cellular health, promoting overall well-being and vitality.*
Immune Support: Support your immune system, ensuring you're at your best every day.*
Embrace the "Glow Up Collection" and witness the transformation of your skin and inner health.* Say goodbye to fine lines, wrinkles, and dullness while saying hello to a more youthful, radiant you. This bundle is your comprehensive solution for achieving beauty from within, backed by the power of science and nature.*
Elevate your skincare and wellness routine today with the Glow Up System and take the first step towards a healthier, more beautiful you!*

Reviews
Reviews collected from North America
Enjoy the Convenience of a Subscription
Setting your order to be delivered to your doorstep automatically is not only convenient but it means the benefits of the products you are taking will keep contributing toward your ongoing health and wellness!
PLUS
Free Shipping
on every subscription
$224.99 or more!
PLUS
Loyalty Points
you can use towards
FREE product!