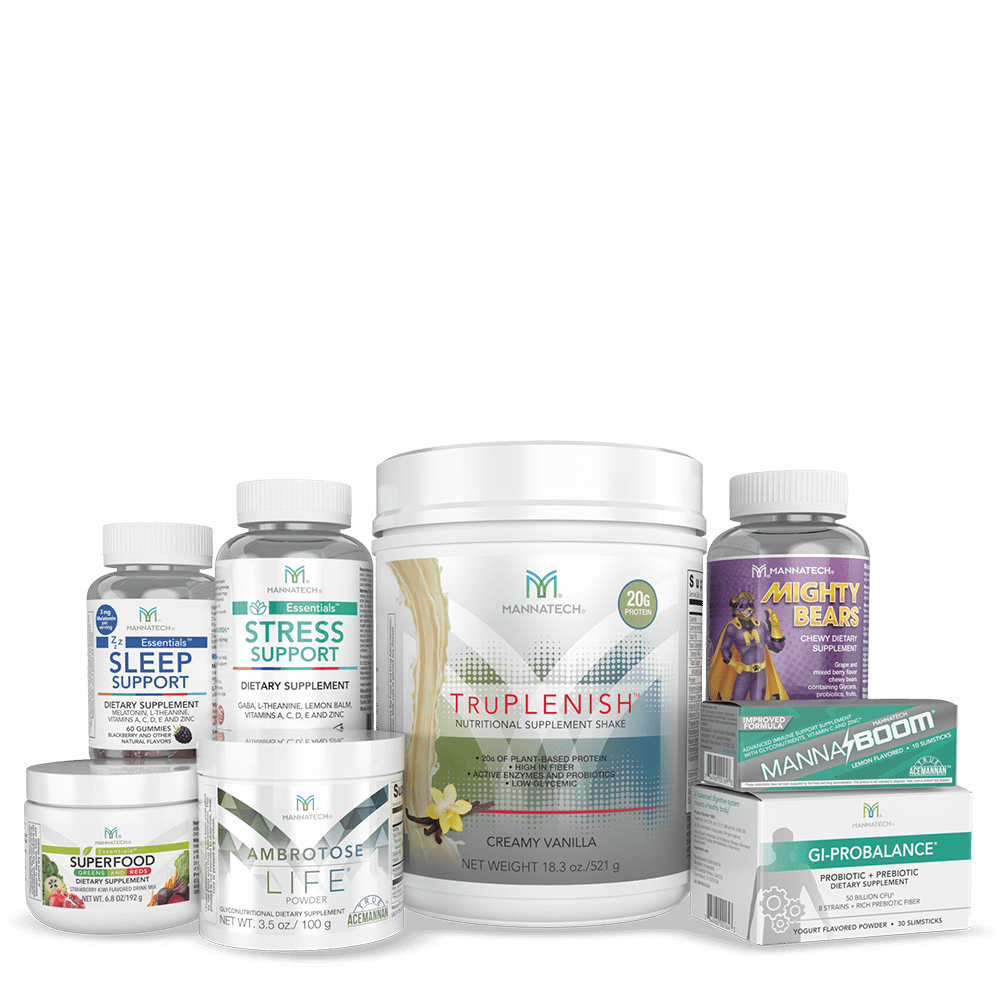 Elevate Your Family's Well-being Together!
Mission 5 Million®
130
servings
of PhytoBlend™ powder are provided to a child in need with the purchase of this product.
Learn More
Product Information
Overview
Your family's health is your most precious asset, and the Ultimate Family Health Bundle is your comprehensive solution to nurture it. This thoughtfully curated collection of products is meticulously crafted to bolster the well-being of every family member, from the youngest to the oldest.* With a steadfast commitment to promoting hormonal balance, cellular health, immune support, daily nutrition, and overall vitality, this bundle serves as your key to a healthier and happier family.*
The Ultimate Family Bundle Includes:
OSP – Optimal Support Packets: Promote hormonal balance, fortify your antioxidant defenses, and meet your daily vitamin requirements with our convenient daily packets.* OSP offers comprehensive support for the holistic well-being of your entire family.*
Ambrotose Life® – Ultimate Glycan Product, Cellular Health: Experience the pinnacle of glycan-based cellular health support with Ambrotose Life.* This potent supplement nurtures your cells, fostering optimal health and vitality for your entire family.*
MightyBears™ – Kid's MultiBenefit Gummy: Support immunity, promote digestion, support eye and bone health, aid growth and development, and support cognitive function for the whole family.*
GI-ProBalance® slimsticks – Prebiotic and Probiotic: Cultivate your family's gut health with GI-ProBalance, a powerful prebiotic and probiotic combination that ensures a harmonious gut microbiome for improved digestion and overall well-being.*
Superfood Greens and Reds drink mix: Elevate your family's nutrition with Superfood Greens and Reds, a supplement packed with essential nutrients from both green and red superfoods. This comprehensive blend bolsters overall health and vitality.*
Sleep Support Gummies – Restful Night's Sleep: Ensure restful nights for everyone in your family with our delicious Sleep Support gummies.* These gummies promote better sleep, leaving your loved ones refreshed and ready to conquer the day.*
Stress Support Gummies – Calm Down and Relax: Help your family find tranquility and relaxation in today's hectic world with Stress Support gummies.* These gummies offer stress relief and emotional balance for a more peaceful life.*
TruPLENISH™ Shake – Healthy Weight Support: Support your family's healthy weight and nutritional goals with TruPLENISH, a nutritious shake designed for those seeking to achieve and sustain their ideal weight.*†
MannaBOOM® powder – Immune Health for the Whole Family: Bolster your family's immune system with MannaBOOM, a specialized immune health supplement tailored to fortify and protect every member of your family.*
Reviews
Reviews collected from North America
†When taken in conjunction with a reduced-calorie diet and regular exercise.