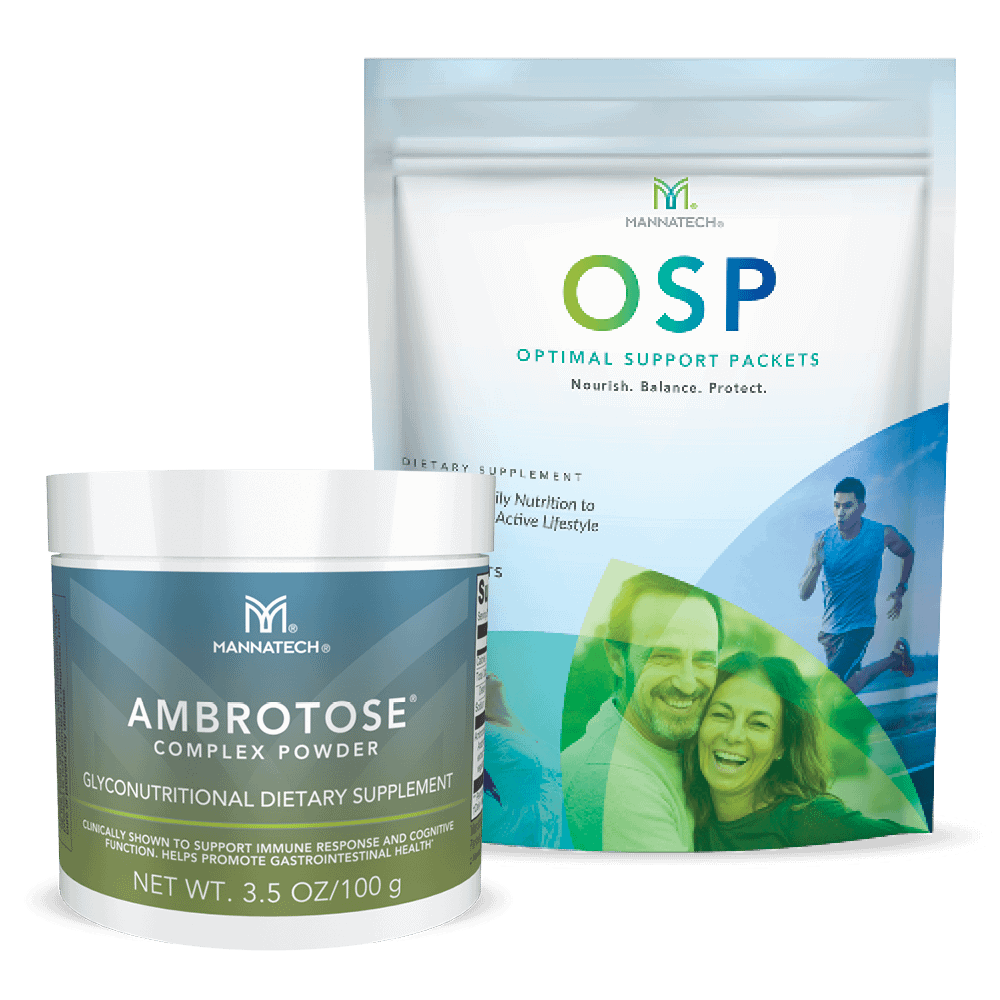 These popular products address the mind, body and spirit
Mission 5 Million®
55
servings
of PhytoBlend™ powder are provided to a child in need with the purchase of this product.
Learn More
Product Information
Overview
Your Proactive Approach to Healthy Aging
The actions you take toward your health today can affect how you feel tomorrow. From the food you eat, to how much you exercise, these actions directly affect the quality of your health. Take control of your health today to enjoy healthy aging.
At Mannatech, it is our mission to positively impact your future by helping your body receive the vitamins and minerals it needs to operate at its best.
Mannatech has developed products that truly support a proactive lifestyle. Our legendary Core Four bundle is a favorite among our Customers due to the abundance of support for healthy aging, while giving them a proactive approach to healthy aging.*
The Core Four bundle with Ambrotose Complex & Optimal Support Packets (OSP) will help NOURISH, PROTECT, REGULATE and COMMUNICATE by providing optimal support for complete wellness in the convenience of just 2 packets and 2 scoops per day.*
Here are just a few of benefits each product has to offer:
Catalyst Multivitamin tablets are formulated strategically to NOURISH with 30 vitamins, minerals and essential nutrients, 19 of which provide 100% or more DV. Support your sense of calm with scientifically studied Sensoril® ashwagandha, a popular adaptogen known for its powerful, restorative properties.*
Help PROTECT your body with Ambrotose AO capsules.* Loaded with antioxidants like naturally sourced vitamins C and E to help provide superior protection for cells, immune support and help the body guard against oxidative stress so you can keep living well.*
PLUS caplets help REGULATE endocrine and foundational adrenal function to help your body's natural recovery processes from things like "Adrenal Fatigue."* It provides improved energy, vitality, mood and calmness.*
COMMUNICATE with Ambrotose Complex powder, offering a powerful complex of prebiotics, soluble fibers and naturally sourced Glycans for proper nutrition and cell-to-cell communication, as well as immune, organ and digestive support.*
Reviews
Reviews collected from North America
Enjoy the Convenience of a Subscription
Setting your order to be delivered to your doorstep automatically is not only convenient but it means the benefits of the products you are taking will keep contributing toward your ongoing health and wellness!
PLUS
Free Shipping
on every subscription
$224.99 or more!
PLUS
Loyalty Points
you can use towards
FREE product!