Free Shipping on every subscription over $224.99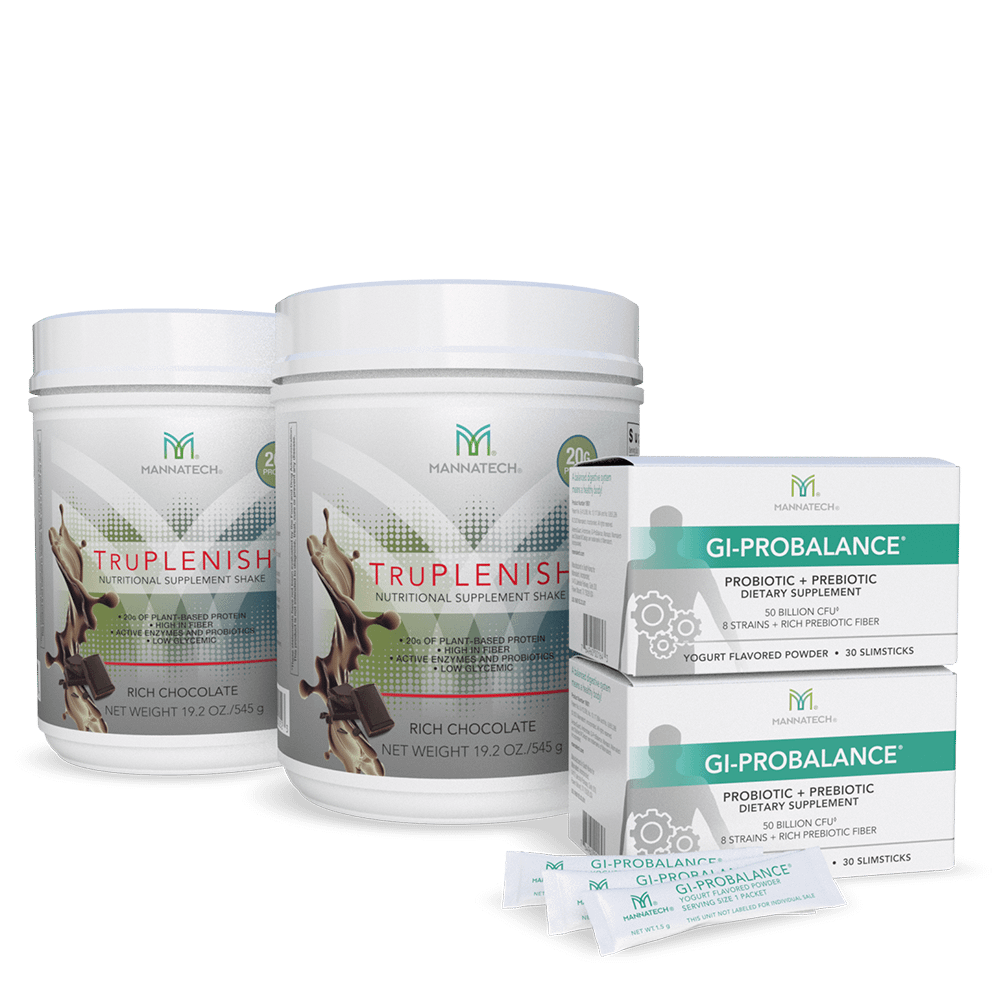 Healthy, Happy Gut Smoothie Bundle
Start your day with a shake that's both nutritious and delicious!
Mission 5 Million®
40
servings
of PhytoBlend™ powder are provided to a child in need with the purchase of this product.
Learn More
Product Information
Overview
Start your day with a shake that's both nutritious and delicious! TruPLENISH and GI-ProBalance are formulated for optimal nutrition and gut-health. This bundle helps keep you feeling full and balanced, while boosting your overall health. With the unique combination of 20g of protein, probiotics and high fiber, you can stay on top of your daily nutritional needs while enjoying great taste. Enjoy the benefits of TruPLENISH and GI-ProBalance today!
This Bundle Includes:
2 Rich ChocolateTruPlenish Shakes
2 GI-ProBalance
TruHealth Healthy, Happy Gut Smoothie:
2 scoops of the TruPlenish Nutritional Shake
½–1 cup fruit of your choice (frozen berries work great)
2 cup(s) chopped, organic kale leaves with tough stems removed, or spinach
6 ice cubes (for a more frozen texture)
1 cup water, coconut water or almond milk
½ teaspoon or pinch of stevia, xylitol or allulose
½ tablespoon healthy fat (we recommend coconut oil or flax seed)
2 GI-ProBalance Slimsticks
Instructions: In a blender, combine fruit, kale/spinach, ice cubes, water, natural sweetener, healthy fat and the TruPLENISH Nutritional Shake. Pulse a few times, then purée until smooth, scraping down the sides, as necessary. Pour into your favorite cup and enjoy!
Reviews
Reviews collected from North America
Enjoy the Convenience of a Subscription
Setting your order to be delivered to your doorstep automatically is not only convenient but it means the benefits of the products you are taking will keep contributing toward your ongoing health and wellness!
PLUS
Free Shipping
on every subscription
$224.99 or more!
PLUS
Loyalty Points
you can use towards
FREE product!