Free Shipping on every subscription over $224.99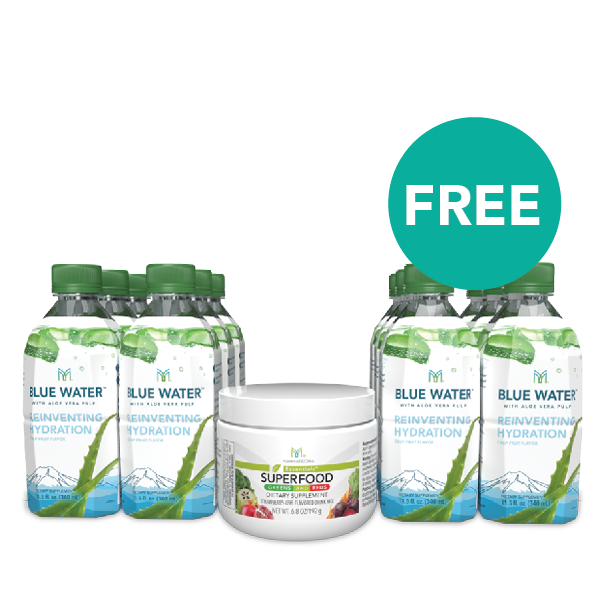 Two New Products, One Amazing Deal
Mission 5 Million®
14
servings
of PhytoBlend™ powder are provided to a child in need with the purchase of this product.
Learn More
Product Information
Overview
NEW DEAL AND NEW PRODUCTS! Buy 1 Superfood Greens and Reds + 1 Blue Water pack, and you'll get 1 more Blue Water pack FREE!
†LIMIT 4 PER EACH ORDER.
Superfood Greens and Reds is a refreshing, sweet functional drink mix to fill the fruit and vegetable nutritional gap! This supplement contains an antioxidant-rich blend of 20 phytonutrients from plant extracts, fruits and vegetables, plus glycans, in each serving to support energy, endurance, healthy cortisol levels and gut health.*
Our new Blue Water™ is sourced from a volcanic aquifer located in the tropical "blue zone" region of Costa Rica and infused with 100% pure Aloe vera pulp for a refreshing approach to healthy hydration.*
This bundle includes:
Reviews
Reviews collected from North America
†LIMIT 4 PER EACH ORDER. NOT FOR RESALE IN CANADA. ORDERS CANNOT BE REDEEMED USING LOYALTY POINTS. THERE WILL BE NO FIRST ORDER BONUS FOR FIRST ORDERS OF THIS PROMOTIONAL ITEM DURING THIS PROMOTIONAL PERIOD AND/OR WHILE SUPPLIES LAST. ALL SALES FINAL.