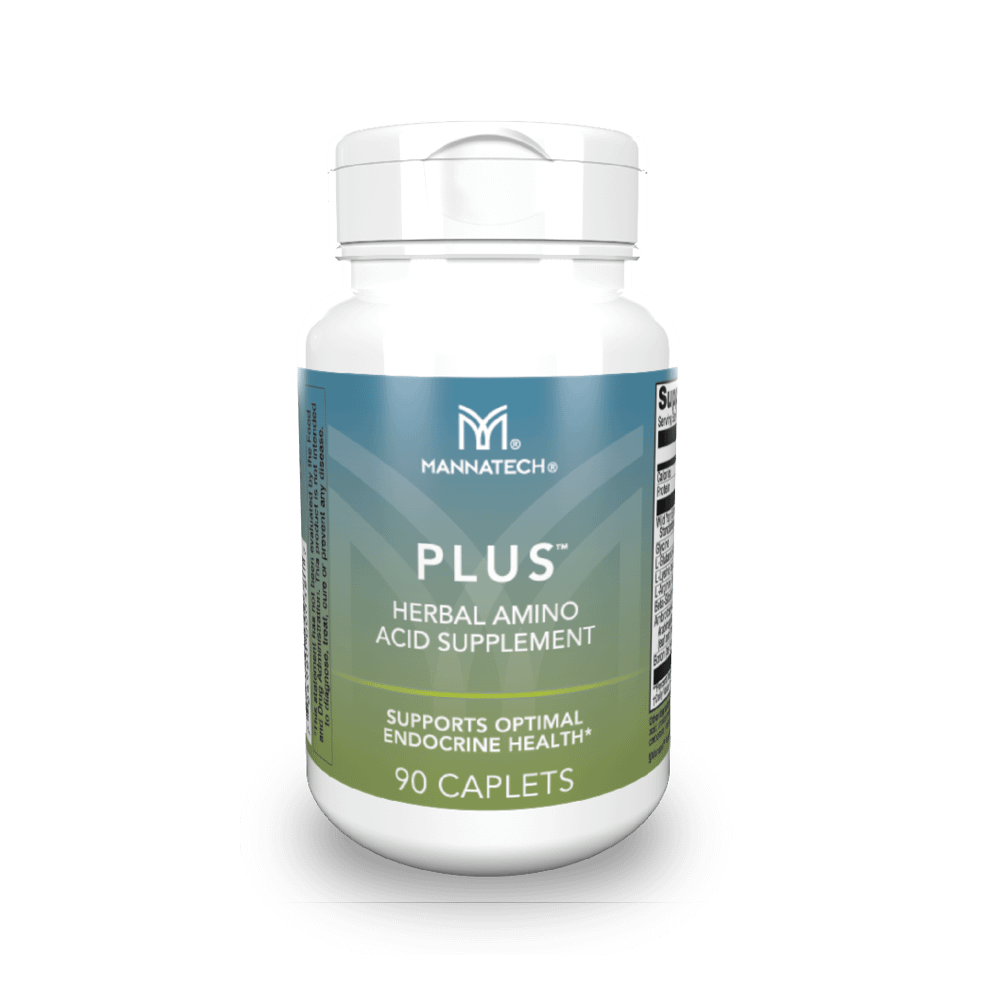 Supports balanced hormone levels*
Mission 5 Million®
9
servings
of PhytoBlend™ powder are provided to a child in need with the purchase of this product.
Learn More
Product Information
Overview
HEALTHY SUPPORT FOR YOUR HORMONES
When you're not quite you, a faulty endocrine system may be the problem. Help keep it healthy with our PLUS caplets formulated with a unique blend of nutrients that support balanced health to keep your spirits high.
Formulated with a unique blend of ingredients, like those found in Wild Yam root, our PLUS caplets:
Support breast, prostate, bone and colon health.*
Support the health of the immune, nervous and cardiovascular systems.*
Are formulated to keep your endocrine system healthy.*
Are a source of plant sterols.
Ingredients
Wild Yam Extract (root), Glycine, L-Glutamic Acid, L-Lysine (as L-Lysine HCl), L-Arginine (as L-Arginine HCl), Beta-Sitosterol (from plant sterols), Arabinogalactan (from Larix spp. wood), Aloe vera extract (leaf and inner gel powder), Ghatti Gum, Gum Tragacanth, Boron (as boron glycine chelate)
Resources
Product Information Sheet
FAQs
I'm allergic to aloe vera. Can I use products that contain Ambrotose complex?
The Ambrotose complex in PLUS caplets contains aloe vera gel. Individuals with allergies or sensitivities to any ingredients in our products should always consult their personal physician before use.
What is the endocrine system and why is it important?
The endocrine system is the system that maintains hormonal balance in the body. A well-functioning endocrine system helps support the body's natural recovery from physical and emotional stress and works in harmony with the body's immune system.*
Can men and women use PLUS caplets?
Yes, men and women can use PLUS caplets. Our PLUS caplets contain healthful amino acids that both women's and men's endocrine systems can use.
Reviews
Reviews collected from North America
Enjoy the Convenience of a Subscription
Setting your order to be delivered to your doorstep automatically is not only convenient but it means the benefits of the products you are taking will keep contributing toward your ongoing health and wellness!
PLUS
Free Shipping
on every subscription
$224.99 or more!
PLUS
Loyalty Points
you can use towards
FREE product!