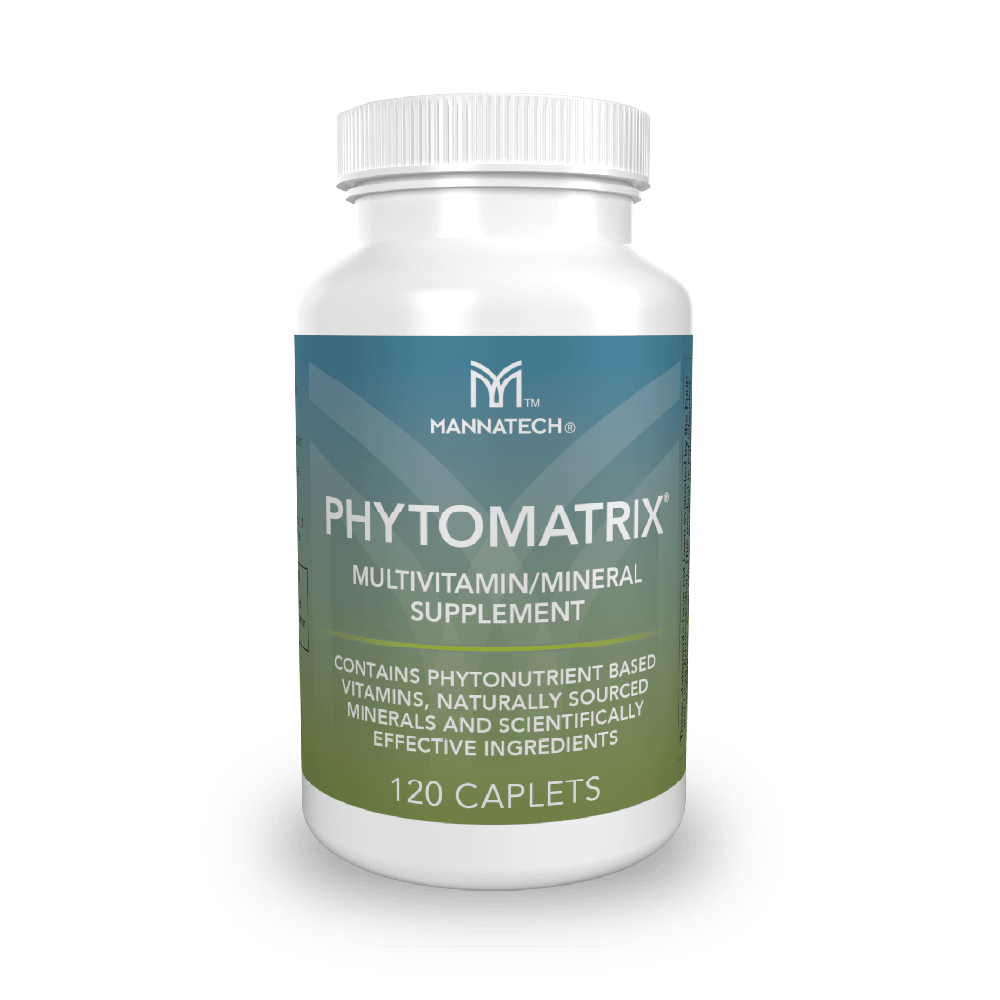 Helps protect against nutritional deficiencies
Mission 5 Million®
12
servings
of PhytoBlend™ powder are provided to a child in need with the purchase of this product.
Learn More
Product Information
Overview
Phytomatrix is created with naturally sourced vitamins and minerals that support the heart, immune system and more, to help keep you healthy and alert*
These nutrient-dense caplets:
Provide a natural vitamin/mineral complex for maximum absorption and digestion*
support heart health.*
offer antioxidant and immune system support.*
support the production of energy with B vitamins.*
Resources
Product Information Sheet
FAQs
How are the natural food-based minerals in Phytomatrix® made?
The yeast-based minerals used by Mannatech are made from whole cell yeast (Saccharomyces cerevisiae). The product is produced using the natural nutrients found in the yeast, as well as measured amounts of the needed minerals. All of these ingredients work together to concentrate the nutrients and minerals inside the cellular structure of the yeast. The product is gently processed to maintain the efficacy of the minerals and nutrients, as well as the yeast cell being inactivated in the end.
How do PhytoMatrix caplets differ from Catalyst™ tablets?
PhytoMatrix is essentially a general multivitamin for health maintenance and the Catalyst tablets are also a multivitamin but have been specially formulated for added metabolic support.*
Why do some of the labeled nutrients in PhytoMatrix supplement appear to offer less Daily Value (DV) percentage than what is listed for Catalyst tablets?
The DV percentage will vary as Catalyst is formulated to provide additional metabolic support.*
How do the food-sourced minerals in PhytoMatrix caplets differ from the Ambroglycin complex in Catalyst tablets?
Food-sourced minerals are one of many ways to supplement a person's diet. Additionally, the Ambroglycin complex is a blend of Ambrotose® complex and dried herbs and vegetables. The Ambroglycin complex was designed to be a food source of nutrition that was blended with other safe and efficacious mineral forms designed specifically for Catalyst. The technology utilized by both products are safe and efficacious.
How do PhytoMatrix caplets compare with Phyt•Aloe® capsules?
Our PhytoMatrix caplets are a food-sourced multivitamin/mineral/phytonutrient product containing natural ingredients. They are designed to provide essential vitamins, minerals and standardized amounts of phytonutrients. Our Phyt•Aloe capsules are composed of high-quality fruit and vegetable powders, but they are not standardized. Our Phyt•Aloe bulk capsules are formulated to supplement fruit and vegetable intake, but do not provide the same vitamin, mineral and phytonutrient content as PhytoMatrix caplets.
Taking both PhytoMatrix caplets and Phyt•Aloe capsules together may increase the benefit to your health, but one product does not replace the other.*
Can I use PhytoMatrix multivitamin and mineral supplement in place of a prenatal vitamin?
Mannatech's PhytoMatrix caplets have been formulated to meet the nutritional needs of the average healthy adult.* Prenatal vitamins are formulated to meet the nutritional needs of an expectant mother and her unborn child. If you are pregnant, nursing, taking medication, have a health condition, or are planning a medical procedure, consult your health professional before use. Discontinue use and consult your doctor if any adverse reactions occur.
Can children use PhytoMatrix multivitamin and mineral supplement?
Our PhytoMatrix caplets were formulated specifically for the needs of adults.
Why is there a notation on the PhytoMatrix label stating that dicalcium phosphate is not a preferred source of calcium?
The primary source of calcium in PhytoMatrix caplets is red algae (Lithothamnium). However, dicalcium phosphate, an excipient used for capleting, also contributes some amount of calcium. Regulations require that we disclose this information, but Mannatech wants the consumer to know that we do not feel that it is as beneficial a form of calcium.
Reviews
Reviews collected from North America
Enjoy the Convenience of a Subscription
Setting your order to be delivered to your doorstep automatically is not only convenient but it means the benefits of the products you are taking will keep contributing toward your ongoing health and wellness!
PLUS
Free Shipping
on every subscription
$224.99 or more!
PLUS
Loyalty Points
you can use towards
FREE product!