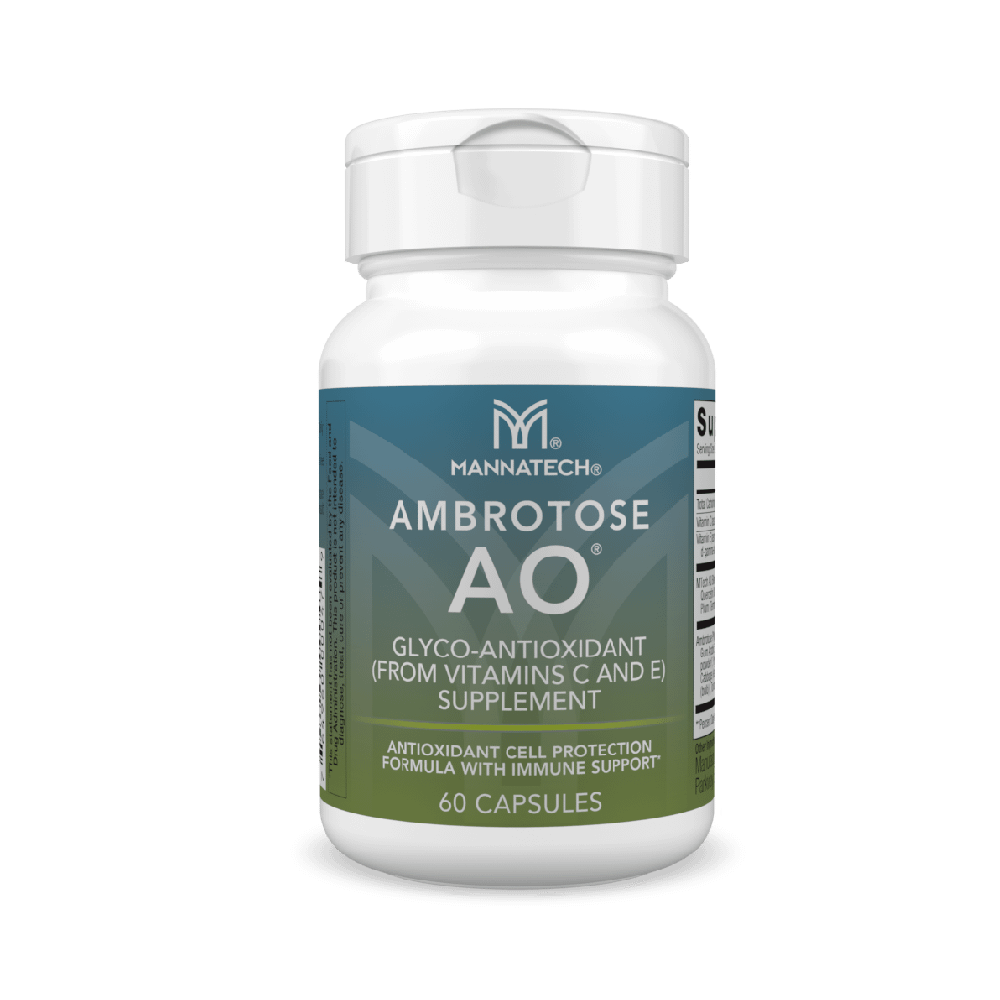 Fight back against pollution, toxins and stress
Mission 5 Million®
12
servings
of PhytoBlend™ powder are provided to a child in need with the purchase of this product.
Learn More
Product Information
Overview
FIGHT BACK AGAINST POLLUTION, TOXINS AND STRESS
Ambrotose AO is loaded with naturally sourced vitamins C and E to protect cells, support immune function and help the body guard against oxidative stress so you can keep living well.*
Just two capsules a day are clinically proven to provide over 2 1/2 times more antioxidant protection than five servings of fruits and vegetables.†
These capsules:
Protect your cells with water- and fat-soluble antioxidants.*
Help the body guard against oxidative stress with antioxidant-rich nutrients.*
Offer additional immune support. *
Provide effective defense against free radicals.*
Ingredients
Vitamin C (as asorbic acid), Vitamin E (as mixed d-alpha-, d-beta-, d-delta- and d-gamma-tocopherols), Quercetin Dihydrate, Grape Skin Extract, Green Tea Extract (leaf), Australian Bush Plum (Terminalia ferdinandiana) (fruit), Gum Arabic, Xanthan Gum, Gum Tragacanth, Ghatti Gum, Aloe vera (inner leaf gel powder), Phyt•Aloe® Complex [Broccoli (flower/stalk), Brussels sprout (aerial part), Cabbage (leaf), Carrot (root), Cauliflower (flower/stalk), Garlic (bulb), Kale (leaf), Onion (bulb), Tomato (fruit), Turnip (root), Papaya (fruit), Pineapple Juice Powder (fruit), Vegetable cellulose, citric acid.
Videos
Product Focus: Ambrotose AO
Resources
Product Information Sheet
FAQs
I'm allergic to aloe vera. Can I use products that contain Ambrotose complex?
The Ambrotose complex in Ambrotose AO capsules includes aloe vera gel. Individuals with allergies or sensitivities to any ingredients in our products should always consult their personal physician before use.
What are Glyconutrients?
Simply put, they are specialized ingredients derived from plants and aloe that provide targeted nourishment for your cells. There are trillions of cells in your body that talk to each other, but environmental toxins, age and bad eating habits can make it harder for them to communicate. This can lead to suboptimal health, which is why Mannatech, the innovator and pioneer of Glyconutrients, continues to cultivate this incredible technology so your body can do amazing things.*
I'm allergic to many fruits and/or vegetables. Can I take Ambrotose AO capsules?
Our Ambrotose AO capsules contain broccoli, Brussels sprout, cabbage, carrot, cauliflower, garlic, kale, onion, tomato, turnip, papaya and pineapple. If someone has a sensitivity to any of these ingredients, they should be cautioned about the use of this product. Individuals with allergies or sensitivities to any ingredients in our products should always consult their personal physician before use.
Why are antioxidants important?
Antioxidant-rich nutrients help protect your cells against the harmful effects of toxins, environmental stress, poor diet and oxidative stress. Antioxidants also act as free radical scavengers.*
What are free radicals?
Free radicals are reactive molecules that can harm your cells. Toxins such as pollution, stress and even a poor diet can contribute to the creation of free radicals, which can lead to an acceleration of the aging process. However, antioxidants reduce free radicals by contributing electrons to help maintain molecular stability.*
Reviews
Reviews collected from North America
† Comparison of serum ORAC values obtained in two separate clinical studies funded by Mannatech