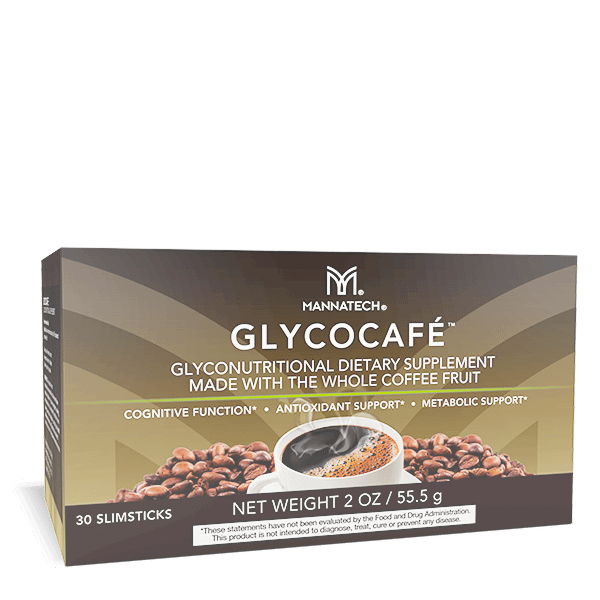 Healthy energy with antioxidant support*
Mission 5 Million®
7
servings
of PhytoBlend™ powder are provided to a child in need with the purchase of this product.
Learn More
Product Information
Overview
GlycoCafé is a delicious, premium coffee that will satisfy your cravings, give you energy, and with regular and moderate use, can support longevity.* In addition, it may improve cognitive function and alertness, while providing a polyphenol-rich source of antioxidants that supports the body and healthy cells.*
All of this is possible because of the very special robust blend of organic Arabica beans, antioxidant rich Coffeeberry® brand coffee fruit, metabolism-boosting green coffee, infusion of Glycans and coconut oil.
You can feel confident in your GlycoCafé purchase because our beans are harvested and supported by the Rainforest Alliance. They support collective action for people and nature, contributing toward a better future.
For a complete coffee experience that's enhanced by nature, order GlycoCafé today!
Benefits:
May improve cognitive function and alertness.*
Provides superior antioxidant support.*
Supports a healthy metabolism.*
Energizing and supports longevity.*
Supports cardiovascular health.*
Gluten Free
Soy Free
Dairy Free
Vegan Friendly
No MSG
Resources
Product Information Sheet
Reviews
Reviews collected from North America
Enjoy the Convenience of a Subscription
Setting your order to be delivered to your doorstep automatically is not only convenient but it means the benefits of the products you are taking will keep contributing toward your ongoing health and wellness!
PLUS
Free Shipping
on every subscription
$224.99 or more!
PLUS
Loyalty Points
you can use towards
FREE product!