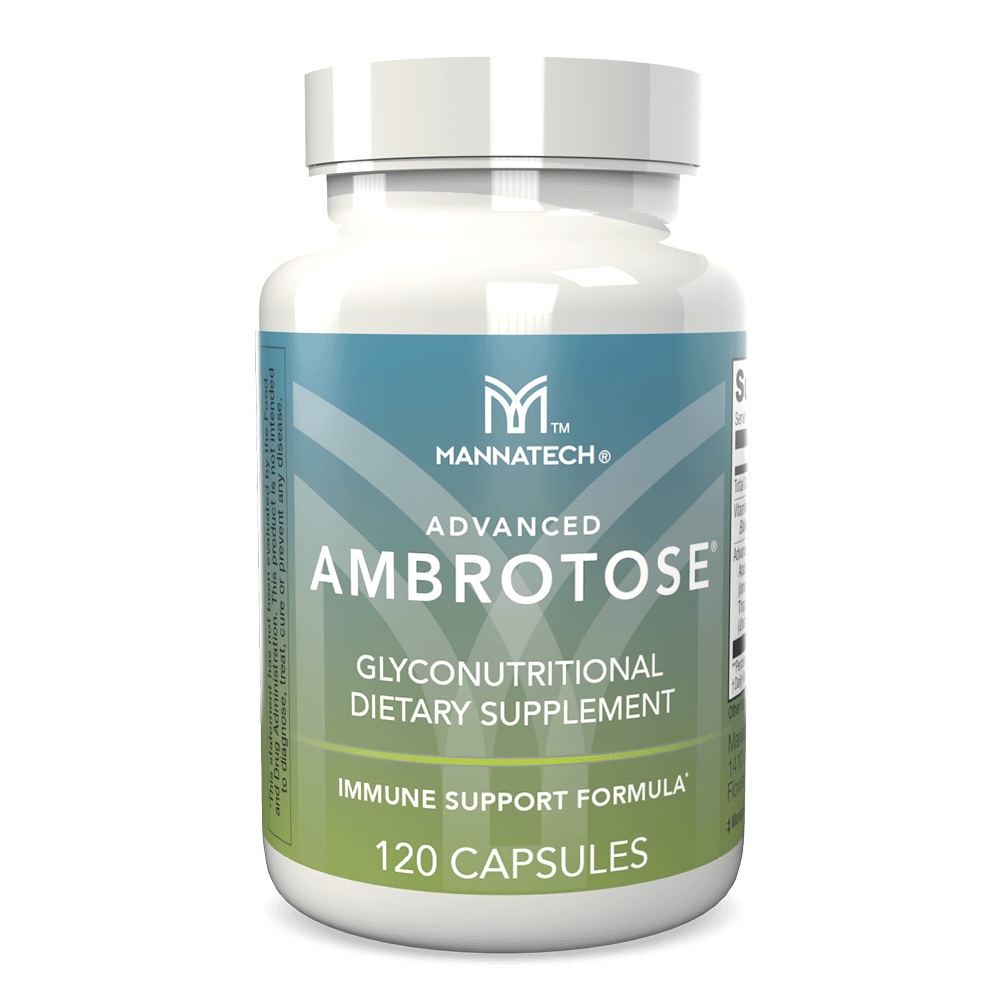 Better health at the cellular level
Mission 5 Million®
13
servings
of PhytoBlend™ powder are provided to a child in need with the purchase of this product.
Learn More
Product Information
Overview
AMAZING THINGS HAPPEN WHEN YOUR CELLS COMMUNICATE
You have over 500 trillion cells that are constantly passing signals back and forth—and if any of these signals are weak or faulty, the result can be a weakened immunity. Advanced Ambrotose supports cell-to-cell communication and a healthy immune system with a potent blend of specialized ingredients that can help keep you healthy.*
Third-party clinical trials indicate the following benefits for Ambrotose powders:†
May enhance recall and recognition memory.*
May improve mood and decrease irritability.*
Supports your immune system as well as proper organ function.*
Helps support proper digestive system function.*
Promotes gastrointestinal health.*
Supports cell-to-cell communication through a blend of specific plant saccharides called Glyconutrients.*
FAQs
What is Manapol® powder, and why is it important?
Manapol powder is the highest-quality aloe ingredient on the planet. It's a pure, 100% aloe vera gel extract, with no additives or common allergens that's not just an important Glyconutrient, but the very Glyconutrient upon which Mannatech was built.
Does Advanced Ambrotose powder contain iodine due to the inclusion of Undaria?
Yes. Mannatech's Advanced Ambrotose powder contains a trace amount of iodine per serving. The US RDI (Recommended Daily Intake) for iodine for adults is 150 mcg per day.
What are Glyconutrients?
Simply put, they are specialized ingredients derived from plants and aloe that provide targeted nourishment for your cells. There are trillions of cells in your body that talk to each other, but environmental toxins, age and bad eating habits can make it harder for them to communicate. This can lead to suboptimal health, which is why Mannatech, the innovator and pioneer of Glyconutrients, continues to cultivate this incredible technology so your body can do amazing things.*
I'm allergic to aloe vera. Can I use products that contain Ambrotose?
Advanced Ambrotose products contain aloe vera gel powders. Individuals with allergies or sensitivities to any ingredients in our products should always consult their personal physician before use.
Is it okay to mix Ambrotose® powder in hot liquids?
Yes, Ambrotose powder can be added, just before serving, to hot liquids, such as soups or teas. For maximum effectiveness the recommended serving of Ambrotose powder should be consumed.
When I measure out Ambrotose powder using a measuring spoon, I often get a different number of spoonfuls from one jar to the next. Why is this?
The filling of the jars is measured by weight, not volume. Because this is a natural product, there is sometimes a variation of density in the ingredients. This may affect the number of servings obtained using a teaspoon (a volume measurement) but does not change the number of servings by weight.
Reviews
Reviews collected from North America
† Mannatech funded these studies and/or donated the product.