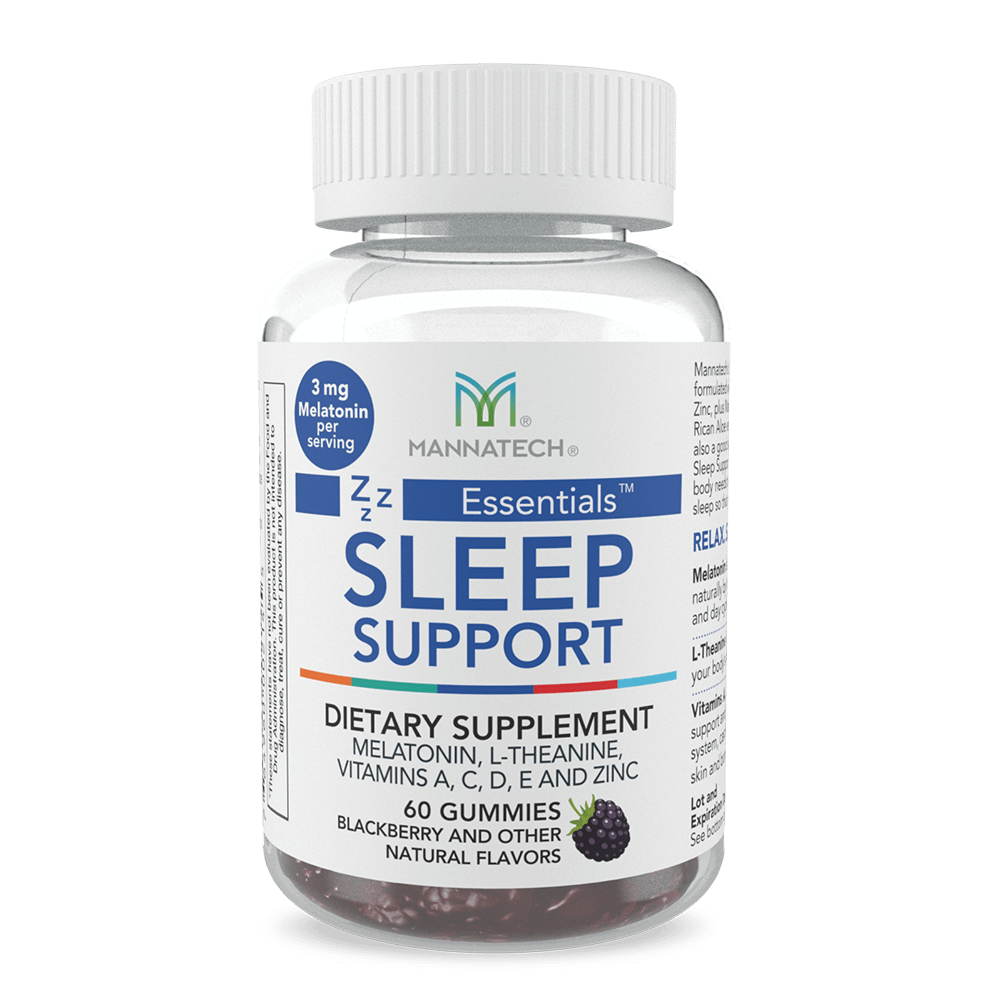 Mannatech Sleep Support gummies
Sleep Support gummies are a natural sleep aid, formulated with active ingredients for a better night's sleep.*
Mission 5 Million®
6
servings
of PhytoBlend™ powder are provided to a child in need with the purchase of this product.
Learn More
Product Information
Overview
Mannatech Sleep Support Gummies
Better Sleep. Better You.*
Get more than just sleep. *
Our Sleep Support gummies provide a safe, non-habit-forming yet effective amount of Melatonin and L-Theanine, helping your body to fall asleep and stay asleep naturally.*
Jam-packed with active ingredients and nutrients, such as vitamins A, C, D and E, and Zinc, that may help cardiovascular, immune system, eye, brain, skin and bone health, our Sleep Support supplements go far beyond simply supporting a better night's sleep.*
Sleep Support Benefits:
Can help you fall asleep naturally.*
Can help maintain a deep sleep.*
Support the regenerative sleep phases.*
Support a good night's sleep.*
Provide a soothing relaxation from normal day-to-day activities.*
Can help calm and soothe the nervous system.*
Can help soothe restlessness.*
2 delicious gummies are all that you need for a healthier sleep and a healthier you.*
Each sleep aid gummy is preservative-free, gluten-free and made from real-fruit pectin, giving them a perfect, chewy, blackberry-flavored, gummy texture!
Ingredients
Melatonin
L-Theanine
Other Vitamins and minerals:
Vitamin A: from beta carotene
Vitamin C: from ascorbic acid
Vitamin D: as ergocalciferol
Vitamin E: as d-alpha tocopheryl acetate
Zinc: as zinc citrate
Manapol® Aloe Vera Extract – Mannatech's exclusive 100% pure aloe vera provides potent support for your immune system and functions as a prebiotic.*
Other Ingredients
Tapioca syrup, cane sugar, purified water, pectin, natural flavors, citric acid, sodium citrate, vegetable juice (color), refined coconut oil, and carnauba wax.
Resources
Product Information Sheet
Reviews
Reviews collected from North America
Enjoy the Convenience of a Subscription
Setting your order to be delivered to your doorstep automatically is not only convenient but it means the benefits of the products you are taking will keep contributing toward your ongoing health and wellness!
PLUS
Free Shipping
on every subscription
$224.99 or more!
PLUS
Loyalty Points
you can use towards
FREE product!