Free Shipping on every subscription over $224.99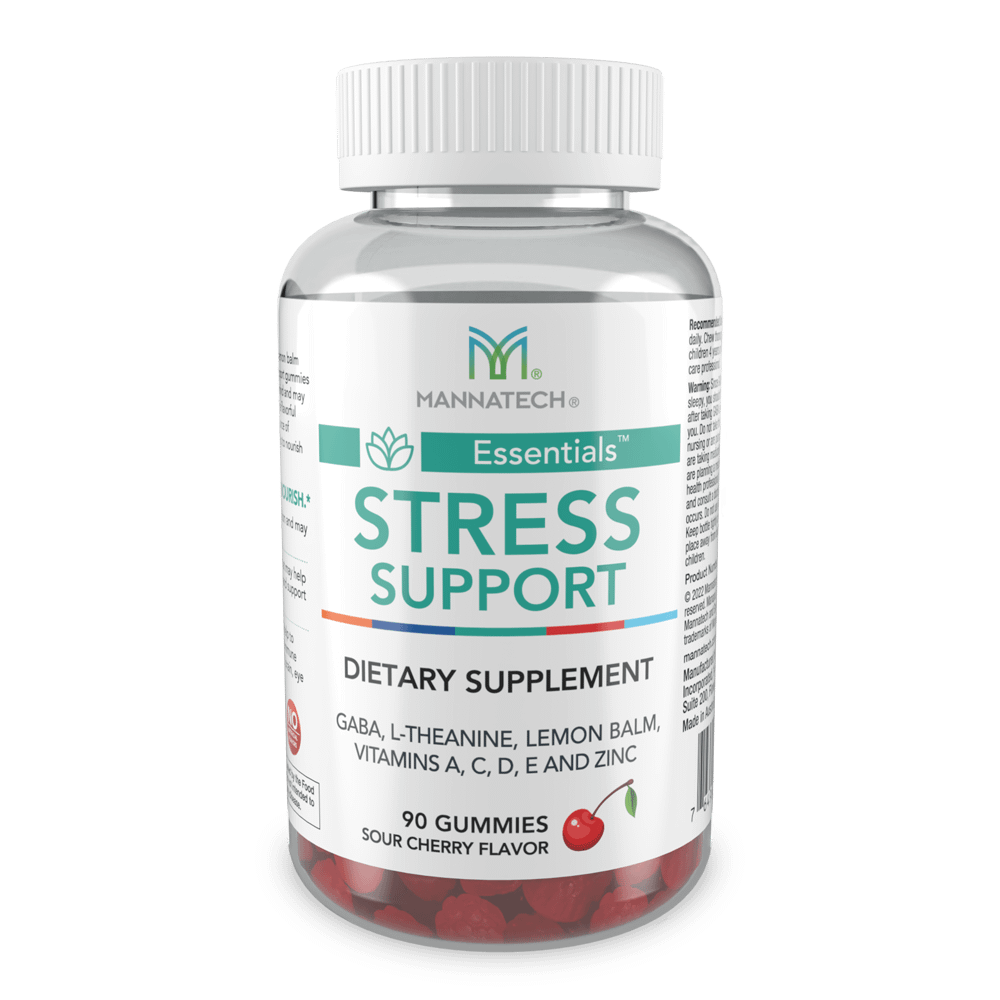 Mannatech Stress Support gummies
Stress Support gummies are a natural stress relief aid, packed with active ingredients to help soothe stress, boosting your focus and mood.*
Mission 5 Million®
8
servings
of PhytoBlend™ powder are provided to a child in need with the purchase of this product.
Learn More
Product Information
Overview
Mannatech Stress Support Gummies
Goodbye, stress. Hello calm.
Not your typical Stress Support supplement.
Stress Support gummies are safe, effective and fast-acting†, featuring a supergroup of ingredients: GABA, L-Theanine, and Lemon Balm, to help soothe stress and improve your focus and mood.*
Jam-packed with active ingredients and nutrients, such as vitamins A, C, D, E, and Zinc that may help cardiovascular, immune, system, eye, brain, skin and bone health, our Stress Support gummies go far beyond the average stress aid.*
Stress Support Benefits:
May help support healthy cortisol levels.*
Can help minimize feelings of stress and mental tension.*
Can help promote calmness.*
Provide Zen after normal day-to-day activities.*
Support mood and focus.*
Can help calm and soothe the nervous system.*
Can help soothe restlessness.*
3 gummies a day can help manage stress and boost your mood.*
Each Stress Support gummy is preservative-free, gluten-free and made from real-fruit pectin, giving them a perfect, chewy, sour cherry-flavored, gummy texture!
Ingredients
GABA (Gamma Aminobutyric Acid)
L-Theanine
Lemon Balm
Vitamin A: from beta carotene
Vitamin C: from ascorbic acid
Vitamin D: as ergocalciferol
Vitamin E: as d-alpha-tocopheryl acetate
Zinc: as zinc citrate
Manapol® Aloe Vera Extract – Mannatech's exclusive 100% pure aloe vera provides potent support for your immune system and functions as a prebiotic.*
Other Ingredients
Tapioca syrup, cane sugar, purified water, pectin, natural flavors, citric acid, natural colors, sodium citrate, vegetable juice (color), refined coconut oil, and carnauba wax.
Resources
Product Information Sheet
Reviews
Reviews collected from North America
†Results can vary from person to person.