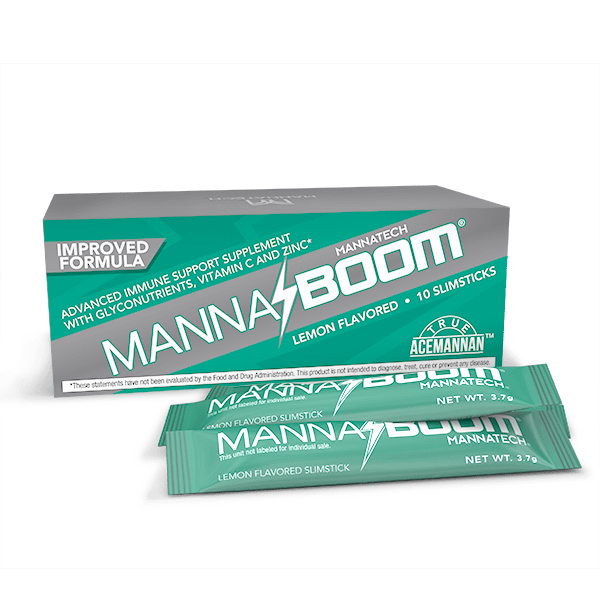 Ignite your immune system*
Mission 5 Million®
11
servings
of PhytoBlend™ powder are provided to a child in need with the purchase of this product.
Learn More
Product Information
Overview
IGNITE YOUR IMMUNE SYSTEM*
The second you're feeling stressed or run down, support your immune system with UPDATED MannaBOOM Slimstiicks! Now with 150% more vitamin C, increased Manapol, added zinc and more glyconutrients in every slimstick! Our plant-based formula, supports immune modulation to nourish and support extended healthy immune function. Supporting immune modulation means bringing the ratio of immune cells back into balance to enable the system to function correctly. MannaBOOM promotes a healthy, active lifestyle with a tasty, citrus-flavored, quick melt formula packaged in slimsticks for on-the-go immune system support.* Help ignite your immune system by ordering MannaBOOM today!
Each MannaBOOM slimstick:
Includes the full nutrients provided in Ambrotose Complex, Manna-C capsules and Ambrotose AO capsules in a tasty, citrus-flavored slimstick.
Ignites your immune system with a hefty serving of Glyconutrients.*
Provides a blast of support with our exclusive Manapol powder and nutrient-rich Asian superfood, Wakame.*
Gives serious defense against free radicals with naturally sourced antioxidants from Acerola and Wild Bush Plum.*
Promotes gastrointestinal health and supports cell-to-cell communication through a blend of Glyconutrients.*
Resources
Product Information Sheet
Reviews
Reviews collected from North America
Enjoy the Convenience of a Subscription
Setting your order to be delivered to your doorstep automatically is not only convenient but it means the benefits of the products you are taking will keep contributing toward your ongoing health and wellness!
PLUS
Free Shipping
on every subscription
$224.99 or more!
PLUS
Loyalty Points
you can use towards
FREE product!