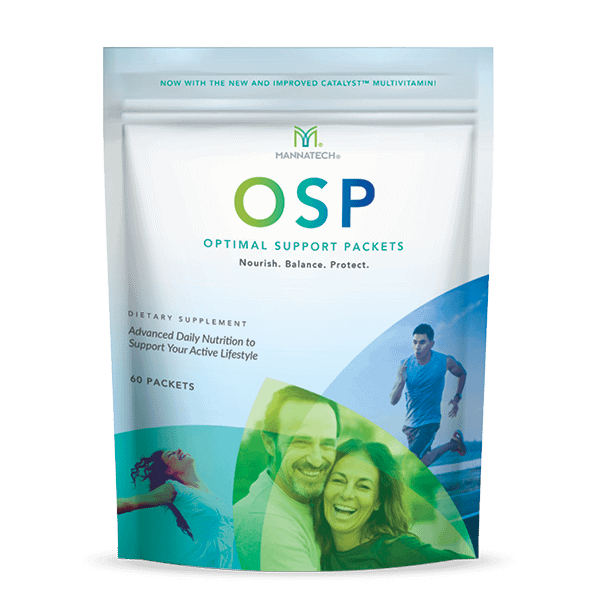 Optimal Support Packets (OSP)
Advanced daily nutrition in convenient packaging
Mission 5 Million®
34
servings
of PhytoBlend™ powder are provided to a child in need with the purchase of this product.
Learn More
Product Information
Overview
Mannatech OSP is easy as 1-2-3!
OSP (Optimal Support Packets) equips you with the very best foundational supplements Mannatech offers! This pre-packaged trio of daily nutritional supplements takes the guesswork out of: the who (they are great for everyone), the what (we assembled three key essential supplements), the where (the prepack can fit in your pocket or purse to take along with you), the when (an OSP every am/pm) and the why (each packet provides an advanced nutritional and herbal support foundation for a healthy lifestyle*!).
So Much More Than a Multivitamin
OSP is specifically formulated to deliver head-to-toe wellness support for every adult.* Our pre-packaged supplement system contains three of our core products designed to benefit your overall nutritional needs, key organ health support, and stave off free radical effects.* Your twice-daily OSP provides vitamins, minerals, herbs, Aloe vera, and a whole lot of self-care benefits.*
The amazing self-care benefits of OSP Daily Nutritional Supplements*
Catalyst™ Multivitamin featuring Sensoril® Ashwagandha (2 pills)
Over 30 vitamins and minerals – contains 100% or more of DV for 19 key nutrients.
Can help to maintain healthy immune system function.*
Supports cardiovascular health, liver, kidneys, and nervous system.*
Sensoril® Ashwagandha is scientifically studied support for helping improve mood and stress response.*
PLUS™ Herbal Amino Acid Supplement (2 pills)
Supports breast, prostate, bone, and colon health.*
Supports the health of the immune, nervous and cardiovascular systems.*
Is formulated to help keep your endocrine system healthy.*
Ambrotose AO® Glyco Antioxidant Supplement from Vitamins C And E (1 pill)
Helps the body guard against the effects of oxidative stress with antioxidants, vitamins C and E.*
May protect your cells with water- and fat-soluble antioxidants, vitamins C and E.*
Offers additional immune support.*
Can provide an effective defense against the effects of free radicals.*
Ingredients
PLUS: Wild Yam Extract (root), Glycine, L-Glutamic Acid, L-Lysine (as L-Lysine HCl), L-Arginine (as L-Arginine HCl), Beta-Sitosterol (from plant sterols), Arabinogalactan (from Larix spp. wood), Aloe vera extract (leaf and inner gel powder), Ghatti Gum, Gum Tragacanth, Boron (as boron glycine chelate)
AMBROTOSE AO: Vitamin C (as asorbic acid), Vitamin E (as mixed d-alpha-, d-beta-, d-delta- and d-gamma-tocopherols), Quercetin Dihydrate, Grape Skin Extract, Green Tea Extract (leaf), Australian Bush Plum (Terminalia ferdinandiana) (fruit)†, Gum Arabic, Xanthan Gum, Gum Tragacanth, Ghatti Gum, Aloe vera (inner leaf gel powder), Phyt•Aloe® Complex [Broccoli (flower/stalk), Brussels sprout (aerial part), Cabbage (leaf), Carrot (root), Cauliflower (flower/stalk), Garlic (bulb), Kale (leaf), Onion (bulb), Tomato (fruit), Turnip (root), Papaya (fruit), Pineapple Juice Powder (fruit), Vegetable cellulose, citric acid.
CATALYST: Vitamin A (as beta carotene and mixed carotenes), Vitamin C (as ascorbic acid and acerola fruit extract) Vitamin D (as ergocalciferol), Vitamin E (as d-alpha-tocopheryl succinate with mixed tocopherols and tocotrienols), Thiamin (as thiamine mononitrate and from baker's yeast), Riboflavin (as riboflavin and from baker's yeast), Niacin (as niacinamide and from baker's yeast), Vitamin B6 (as pyridoxal-5-phosphate and from baker's yeast) Folate (as calcium L-5 methyltetrahydrofolate and from baker's yeast) (Folic Acid), Vitamin B12 (as cyanocobalamin and baker's yeast) Biotin (as biotin from baker's yeast), Pantothenic Acid (as calcium D-pantothenate and from baker's yeast), Choline (as choline bitartrate), Calcium (as calcium citrate-malate), Iodine (from potassium iodide), Magnesium (as magnesium oxide, magnesium bisglycinate), Zinc (as zinc bisglycinate chelate), Selenium (as L-selenomethionine), Copper (as copper glycinate), Manganese (as manganese glycinate), Chromium (as chromium nicotinate glycinate chelate) Molybdenum (as molybdenum glycinate chelate) Sodium, Boron (as boron glycine) Vanadium (as vanadium amino acid chelate), Ashwagandha** root and leaf extract (Withania somnifera), Inositol, Alpha-Lipoic Acid, Spirulina, Coenzyme Q10, Microcrystalline cellulose, dicalcium phosphate, stearic acid, croscarmellose sodium, rice hull concentrate, hydroxypropyl methylcellulose, Acacia gum, Arabinogalactan (from Larix spp. wood), gum tragacanth, Aloe vera extract (inner leaf gel powder), strawberry, blueberry, raspberry, tart cherry, elderberry, cranberry, broccoli, broccoli sprouts, tomato, carrot, spinach, kale, peppermint flavor, glycerin
Resources
Product Information Sheet
Reviews
Reviews collected from North America
Enjoy the Convenience of a Subscription
Setting your order to be delivered to your doorstep automatically is not only convenient but it means the benefits of the products you are taking will keep contributing toward your ongoing health and wellness!
PLUS
Free Shipping
on every subscription
$224.99 or more!
PLUS
Loyalty Points
you can use towards
FREE product!