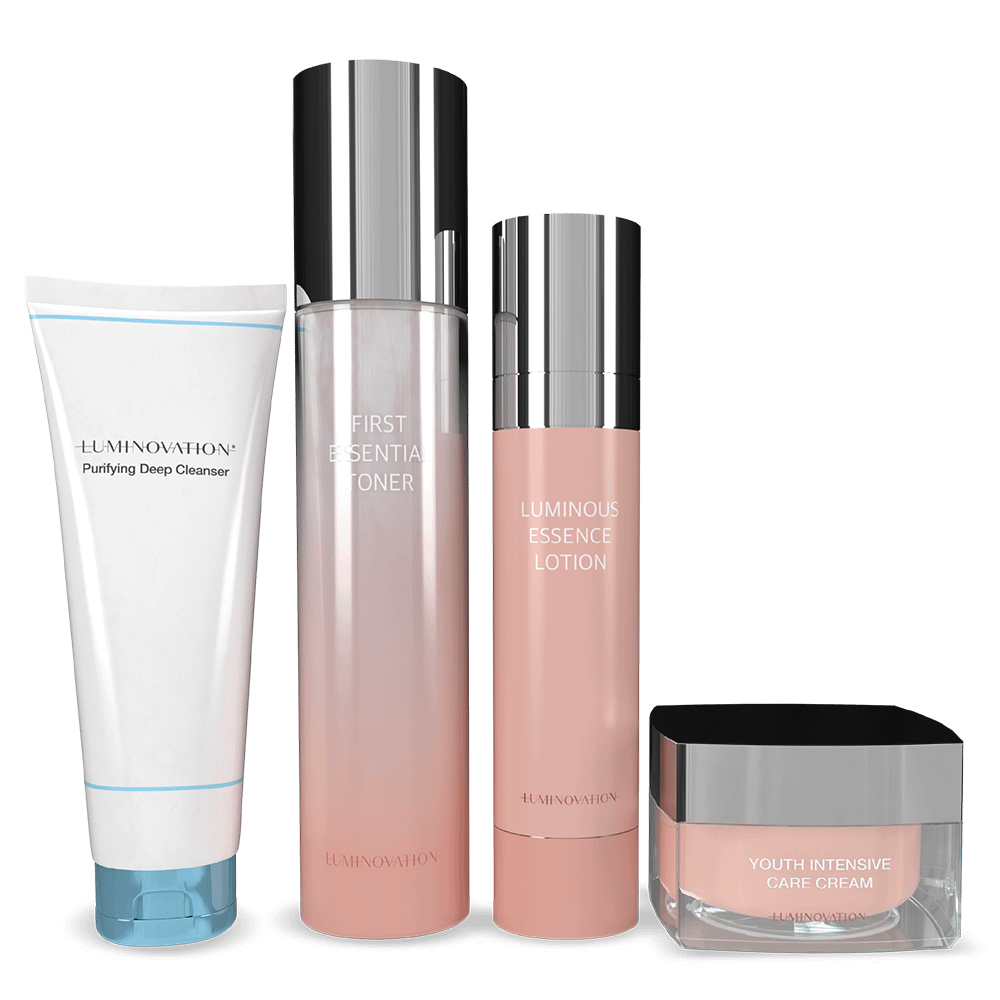 LUMINOVATION K-Beauty System
Transform Your Skin in Four Easy Steps
Mission 5 Million®
46
servings
of PhytoBlend™ powder are provided to a child in need with the purchase of this product.
Learn More
Product Information
Overview
The Luminovation K-Beauty Skincare System includes all 4 Daily Luminovation items shipped together for your convenience. All first-time purchases of this bundle will be shipped with a free Special Luminovation Display Box and Luminovation Sprayer that allows you to spritz on your toner. All subsequent purchases of this bundle will still receive the 4 Daily Luminovation Products, however will be shipped without the display box and sprayer.
The Future of Skincare is Here
Step into the world of radiant, modern skincare and discover the magic of K-beauty with LUMINOVATION's comprehensive skincare line. This isn't just another skincare routine; it's a transformative journey to the best skin of your life. Our four-step system combines the power of Purifying Deep Cleanser, First Essential Toner, Luminous Essence Lotion, and Youth Intensive Care Cream to create a skincare symphony that sings on your skin.
There are a lot of skincare routines out there that promise miracles. But none of them have cutting-edge glycan technology and skin microbiome support like Mannatech's LUMINOVATION K-Beauty System. Designed in Korea, the most trusted source for skincare, this line works with your skin's natural ecosystem by cleansing, hydrating, nourishing and protecting it — all to reveal radiant and lasting results.
These products aren't meant to work alone. They're part of a carefully crafted system, designed to work in harmony. Each step enhances the next, leading you towards radiant, confident skin.
Skincare Meets Science
Purifying Deep Cleanser: PhytoGlyco™ Complex
Proprietary Aloe-sourced glyconutrients replenish skin's moisture and restore skin's strength
First Essential Toner: 43 Natural Moisturizing Factor (NMF) Types
NMF ensures your skin stays thoroughly hydrated and shielded against moisture loss
Luminous Essence Lotion: 6 Jewel Complex
Diamond, pearl, amethyst, ruby, white sapphire and topaz promote healthier, brighter skin
Youth Intensive Care Cream: 8 Peptides
Peptides combat the appearance of fine lines and wrinkles
Glow Beyond Expectations
Benefits:
Elevates your daily skincare routine into a luxurious ritual and boosts your skin's radiance.
Each step enhances the next, culminating in radiant, healthy-looking skin.
Infuses skin with vital nutrients, enhancing its natural luminosity.
Delivers both immediate and long-term results, helping improve skin's texture, tone, and overall appearance.
Features:
A complete 4-part skincare regimen including Purifying Deep Cleanser, First Essential Toner, Luminous Essence Lotion, and Youth Intensive Care Cream.
Designed in Korea and infused with nutrient-rich ingredients and advanced skincare technology for maximum efficacy.
Each product works synergistically to amplify results.
Crafted to cater to all skin types and concerns
Reviews
Reviews collected from North America
Enjoy the Convenience of a Subscription
Setting your order to be delivered to your doorstep automatically is not only convenient but it means the benefits of the products you are taking will keep contributing toward your ongoing health and wellness!
PLUS
Free Shipping
on every subscription
$224.99 or more!
PLUS
Loyalty Points
you can use towards
FREE product!