Free Shipping on every Automatic Order over $100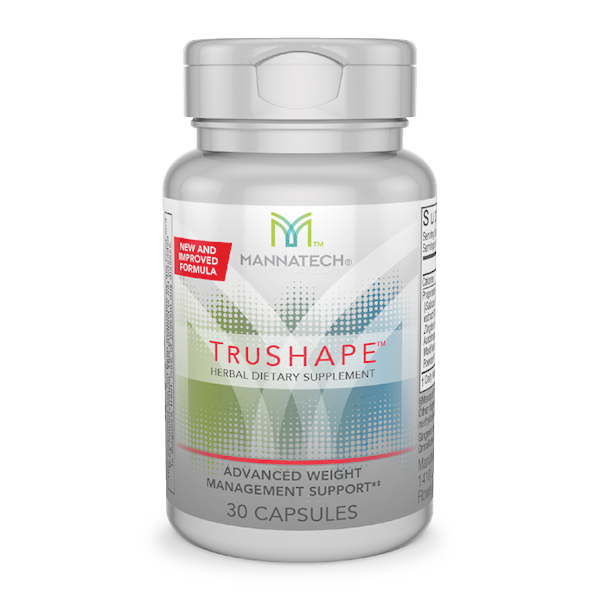 TruSHAPE™ Advanced Weight Management capsules
Reduce the fat & utilize carbs in a safe & effective way
Product Information
Overview
Mannatech's TruSHAPE Advanced Weight Management capsule has been specially formulated to support the healthy digestion and utilization of carbohydrates, healthy glucose and insulin levels.*
TruSHAPE:
Supports the healthy digestion and utilization of carbohydrates, as well as supports the feeling of satiety*
Supports healthy blood glucose levels*
May help support healthy blood lipid levels*
Supports a healthy cardiovascular system*
Helps provide a feeling of satiety*
Supports healthy body composition*‡
Helps to reduce body fat*‡
Supports a healthy metabolism*
Resources
Product Information Sheet
FAQs
Is this just another caffeine pill that will leave me jittery all day?
Not at all. In fact, we decided to take a purely scientific approach to fat loss by using a standardized capsaicin extract derived from peppers. It also includes decaffeinated green tea extract. These help boost your metabolism and fat burning process in your body without the use of harsh stimulants.
Can I take more than one TruSHAPE capsule a day?
We recommend taking the product as recommended on the label, which is one capsule a day. If you have questions for use beyond the directions indicated on the label, you should speak to a qualified healthcare professional.
I'm experiencing pain and indigestion after taking the TruSHAPE fat-loss capsule. Is that normal?
Anybody can have any reaction to any substance at any time. The capsule contains a standardized capsaicin extract, which is derived from peppers. If you tend to have sensitivities to peppers, it's possible that you might experience discomfort. If this happens, please discontinue use and consult your physician or healthcare provider. Please also be sure to take TruSHAPE with food or TruPLENISH Shake to avoid any discomfort.
The TruSHAPE supplement indicates that they are a thermogenic capsule. What does that mean?
Thermogenic means that heat is created through metabolic stimulation. As your metabolism kicks in, heat is produced that helps burn that pesky fat!
†When taken in conjunction with a reduced calorie diet and regular exercise