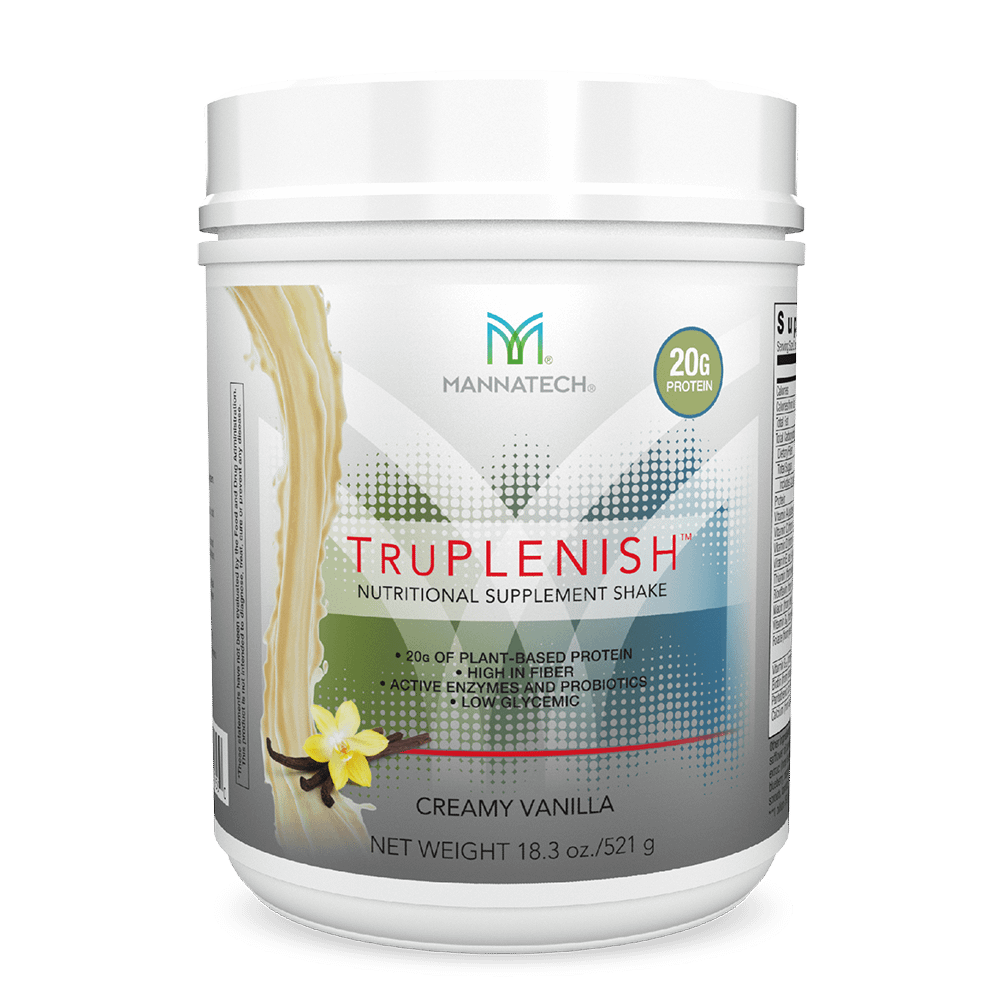 TruPLENISH™ Nutritional Shake (Creamy Vanilla)
Tame your cravings with a creamy shake
Mission 5 Million®
15
servings
of PhytoBlend™ powder are provided to a child in need with the purchase of this product.
Learn More
Product Information
Overview
The TruPLENISH Vanilla Nutritional Shake is one of the core components of the TruHealth Fat-Loss System. It's a plant-based, supplement option full of vitamins, minerals, probiotics, Glyconutrients± and over 20 grams of protein.
Drink a delicious TruPLENISH shake each day to help keep you feeling fuller longer, and enable you to easily reduce your calorie intake without sacrificing nutritional needs. This shake helps form the foundation of your personal fat-loss agenda. Once you've reached your goals, continuing to incorporate TruPLENISH shakes into your daily routine will help you maintain your weight, your new improved body shape and health.
The TruPLENISH Shake:†
Helps transform your body and improve your body composition through the maintenance of lean muscle*
Helps reduce feelings of hunger and increase satiety*
Supports healthy weight management*
Promotes healthy weight loss, for a healthier, leaner body*
Promotes healthy digestion*
Is new and helps you form healthy habits*
Helps you look and feel better*
Suitable for vegans/vegetarians
Does not include ingredients that were produced using biotechnology
Gluten free
Free from Soy
Free from dairy or dairy-derived ingredients
Free from MSG
Free from artificial sweeteners
14 SERVINGS PER RESEALABLE BAG
Ingredients
Vitamin A (as beta-carotene), Vitamin C (from acerola), Vitamin D (from mushroom), Vitamin E (as d-alpha tocopherol), Thiamin (from yeast), Riboflavin (from yeast), Niacin (from yeast), Vitamin B6 (from yeast), Folate (from yeast and folic acid) Vitamin B12 (from yeast)Biotin (from yeast), Pantothenic acid (from yeast), Calcium (from algae), Iron (from protein blend), Iodine (from yeast), Magnesium, Zinc (from yeast),Selenium (from yeast), Copper (from yeast), Manganese (from yeast), Chromium, Molybdenum (from yeast), Sodium, Potassium, Alpha-Linolenic Acid (from flaxseed and chia seed), Lactobacillus acidophilus, Alpha & Beta Amylase, Protease 1, Protease 2, Lactase, Lipase, Cellulase, Invertase Pea protein, brown rice protein, acacia gum, fructose, guar gum, natural flavor, safflower oil powder, Reb A (stevia leaf extract), Arabinogalactan, aloe vera extract (inner leaf gel powder), gum tragacanth), xanthan gum, strawberry, blueberry, raspberry, tart cherry, elderberry, cranberry), Proprietary Veggie Blend (broccoli, broccoli sprouts, tomato, carrot, spinach, kale)
Resources
Product Information Sheet
Reviews
Reviews collected from North America
†When taken in conjunction with a reduced calorie diet and regular exercise.
±Glyconutrients are beneficial saccharides found in nature.