Free Shipping on every subscription over $199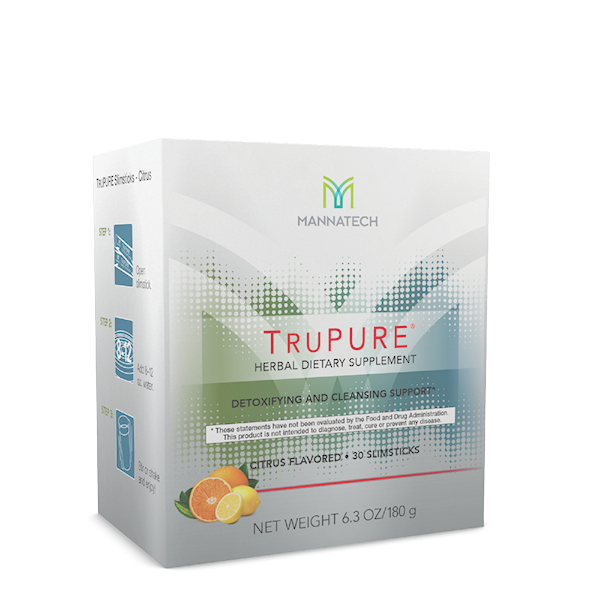 TruPURE® Cleanse slimsticks
Purify your body with a detoxification drink mix
Product Information
Overview
Mannatech's complete, nutritional cleansing drink mix is formulated with natural ingredients to help support your body's ability to cleanse or diminish toxins that can cause oxidative stress. † Unlike many cleanses, TruPURE Slimsticks aren't a laxative or diuretic. They are essential for Cleanse Days when used in conjunction with the TruHealth 30-Day Fat-Loss System and can be used as an everyday drink, providing Glyconutrients, botanical ingredients and support for healthy detoxification.*
TruPURE Slimsticks:†
Promote complete support (purification/cleansing aids the body's vital organs in performing more efficiently)*
Are formulated to support the removal of impurities from all major organs to help support overall health*
Promote healthy weight management, for a healthier, leaner, younger-looking body*
Support a healthy metabolism*
Support detoxification in the liver and at the cellular level*
Provide total body support*
Support healthy body composition*
Contains natural ingredients
Are naturally gluten-free
Are suitable for vegetarians
Are free from dairy or dairy-derived ingredients, SOY and MSG
Help you look and feel better
Videos
Product Focus: TruPURE Cleanse slimsticks
Resources
Product Information Sheet
FAQs
What is the importance of doing a cleanse?
Cleansing can help kick-start your body's own detoxification system. And unlike many cleanses, TruPURE slimsticks aren't a laxative or diuretic.
Why are there 30 slimsticks in a box of TruPURE cleanse slimsticks but the TruHealth System only instructs me to take 4 slimsticks a day on Cleanse Days only?
That's only 16 slimsticks a month. What about the additional 14? There are two options with the TruHealth 30-Day Fat-Loss System:
Use 4 slimsticks for every cleanse day per month = 16 slimsticks
A 2-day jumpstart which equates to 6 cleanse days per month = 24 slimsticks
What if I have slimsticks left over?
You can continue to take them even if you have completed the program. We recommend taking 1-2 slimsticks a day on a regular basis.
If I feel overly tired or have a headache while taking the TruPURE cleanse slimsticks, should I discontinue it?
It's not uncommon when cleansing or changing your normal eating habits to experience effects like headaches, fatigue or constipation. Try drinking more water or eating a light, healthy snack. Fatigue and headaches are often signs that your body is not getting enough water, or you might be experiencing low blood sugar. If the symptoms mentioned above persist, please discontinue and consult your physician or healthcare provider.
In the TruHealth Guidebook, only fruit and vegetables are listed as snacks on Nourish Days. Can I substitute fruits and veggies with lean meat?
Yes, you can use meat as a protein-filled snack. If it's on the approved foods list, you can eat it! On Cleanse Days, however, it's important that you only consume fruits and veggies.
What are the key benefits for TruPURE cleanse slimsticks?
TruPURE helps support the removal of impurities from all major organsᵻ. It promotes healthy weight management while supporting a healthy metabolism, supports anti-aging via antioxidants and provides total body support by containing natural ingredients.†
†When 4 TruPURE slimsticks are taken/day in conjunction with the TruHEALTH System recommendation