Free Shipping on every subscription over $199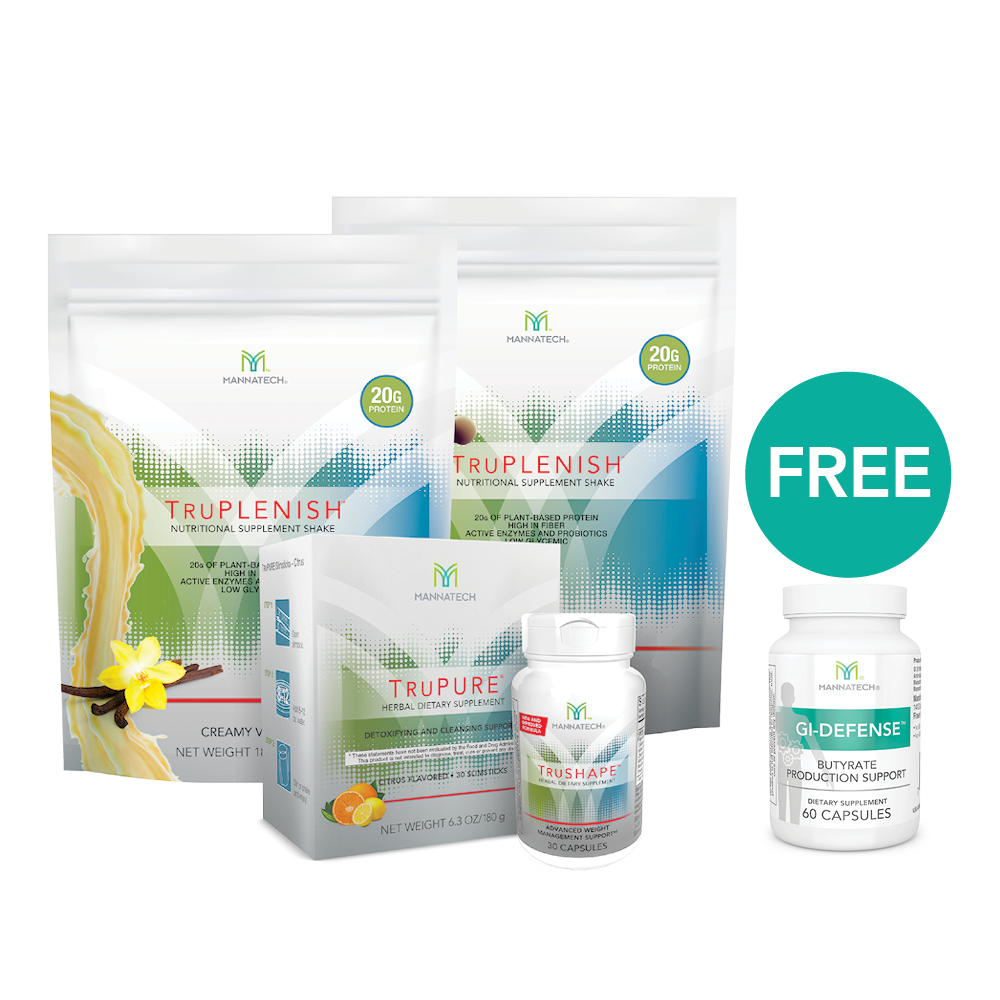 TruHealth™ Maintenance with FREE GI-Defense™
Fight the Fat ‡, Help Strengthen the Gut
Product Information
Overview
Today's modern lifestyle can take a toll on your gut. This can affect the immune system, mood and contribute to normal digestive issues, weight gain including Leaky Gut; all of which can affect your overall health.
NOW IS THE TIME TO FIGHT THE FAT‡ AND HELP STRENGTHEN THE GUT!*
For a limited time only, from June 1 – August 31 (whiles supplies last) when you purchase the TruHealth Maintenance Bundle you will receive a FREE bottle of GI-Defense!
This bundle includes:
2 TruPLENISH – The TruPLENISH Nutritional Shake is a plant-based, supplement option full of vitamins, minerals, probiotics, Glyconutrients and 20 grams of protein. Drink a delicious TruPLENISH shake each day to help keep you feeling fuller longer and enable you to easily reduce your calorie intake without sacrificing nutritional needs.*‡
1 TruSHAPE – Mannatech's TruSHAPE Advanced Weight Management capsules have been specially formulated to support healthy digestion and utilization of carbohydrates, healthy blood glucose and lipid levels.*
1 TruPURE – Mannatech's unique, nutritional cleansing drink mix is formulated with natural ingredients to help support your body's ability to cleanse or diminish toxins that can cause oxidative stress.*† Unlike many cleanses, TruPURE slimsticks aren't a laxative or diuretic. They are essential for Cleanse Days when used in conjunction with the TruHealth Fat-Loss System‡ and can be used as an everyday drink, providing Glyconutrients, botanical ingredients and support for healthy detoxification.*
1 GI-Defense – GI-Defense supports the gut barrier.*. Studies show that there are common factors that can lead to weight gain in the presence of Leaky Gut: the need for support of healthy bacteria levels and the need for nutritional support.*
Not for Resale in Canada
While Supplies Last
†When four TruPURE slimsticks are taken/day in conjunction with the TruHealth System recommendations (i.e., plentiful water intake [32-48 ounces/day on four cleanse days/month]; intake of healthy foods; elimination or low intake of processed foods, alcohol, caffeine, etc.).
‡When taken in conjunction with a reduced calorie diet and regular exercise. Individual results may vary.